Watch A New Star Wars: The Force Awakens Character Waddle Across The Comic-Con Stage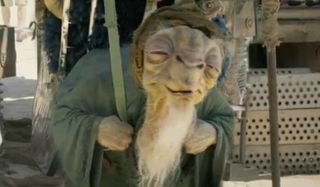 Fans had been camping out overnight to get seats in Hall H for the big Star Wars: The Force Awakens panel at Comic-Con 2015. And it was well worth the wait. While attendees were treated to never-before-seen sneak peeks from the film, director J.J. Abrams, producer Kathleen Kennedy and writer Lawrence Kasdan introduced a new creature from the Star Wars universe. Watch him waddle across the stage in the video below.
Meet Bobba Joe (as he was referred to from the stage). If you recall, he was actually spotted earlier in one of Abrams' Force for Change Omaze video messages...
...and in that massive batch of leaked set photos. The filmmaker showed him back then to prove to the fans that Lucasfilm was indeed returning to practical effects to bring their creatures to life. And for even more solid proof, here came Bobba Joe, unnerving Kennedy for a moment as his uneasy walk threatened to knock him off the stage. We don't know that much about this creature, although he seems as lovable as Chewie, R2-D2 and BB-8. Lucasfilm better start working on a plushie version, or perhaps a remote-controlled robot for kids to play with. And by "kids," I really mean all of us grownups.
According to the folks on stage, Bobba Joe is just one of hundreds of practical effects used to make The Force Awakens. Abrams, Kennedy and Kasdan showed a bunch of behind-the-scenes photos on the big projection screen for the crowd, unveiling all manner of creatures and robots. Most of them were taken amid a desert backdrop, which presumably depicts the planet Jakku. The desert landscape is where we'll first encounter Rey, Daisy Ridley's scavenger character, and an outdoor marketplace we've glimpsed in past previews.
We're eager to see more of Bobba Joe and the rest of The Force Awakens, but alas the panelists revealed that we won't be getting a new Star Wars trailer until this fall. Hopefully, the footage we already have online and the details we gleaned from events past will hold us over until then, but knowing how ravenous the fans are for new information and sneak peeks, it doesn't seem likely.
The Force Awakens features a hefty cast of new and returning players, such as John Boyega, Daisy Ridley, Oscar Isaac, Andy Serkis, Gwendoline Christie, Lupita Nyong'o, Adam Driver, Mark Hamill, Harrison Ford, Carrie Fisher, Peter Mayhew and Anthony Daniels. The plot hasn't been formally released, but the details we've picked up tell of Finn, a stormtrooper who defected from the Empire and is now on the run from the chrometrooper Captain Phasma. He lands on Jakku, which brings him into contact with a scavenger named Rey, while X-Wing pilot Poe Dameron is simultaneously sent on a mission that entangles his destiny with that of Finn and Rey.
Star Wars: The Force Awakens hits theaters on December 18.
Your Daily Blend of Entertainment News
Thank you for signing up to CinemaBlend. You will receive a verification email shortly.
There was a problem. Please refresh the page and try again.