How The Tarzan Remake Will Differ From Previous Tarzan Films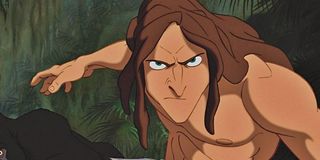 Yes, folks. The Tarzan movie is still happening. It may end up being a disaster, assuming you believe the latest reports, but it's happening nonetheless. Aside from the recent production drama, we've heard very little about the film, so when Cinema Blend was in Mexico visiting the set of Spectre, we decided to get an update from Christoph Waltz, who told us how this Tarzan film will be different from its predecessors.
There have been many cinematic iterations of the famed wild man, such as Scott Sidney's Tarzan of the Apes (1918), Edward A. Kull's The New Adventures of Tarzan (1935), Tarzan and the Lost City (1998), and Disney's animated movie (1999). According to Waltz, who's reportedly playing a villainous military figure named Captain Rom who crosses paths with the ape lord, this iteration will only be different with regards to the historic context.
During our interview, which was mostly about his role as Oberhauser in the new James Bond film, he said,
Elsewhere, reports suggest the film will see the wild man returning to the jungle years after his departure to live in modernity with Jane. Tarzan is directed by Harry Potter helmer David Yates and stars Alexander Skarsgard (True Blood), Margot Robbie (Suicide Squad), Samuel L. Jackson (Marvel Cinematic Universe), and Djimon Hounsou (Guardians of the Galaxy). The film is currently scheduled for release on July 1, 2016, though according to recent intel from The Hollywood Reporter, Yates still has a lot to do before then. Yates has already moved on to Fantastic Beasts and Where to Find Them — we've already seen Katherine Waterston's new bob to go along with her character. The worry is that Tarzan, with a budget of $180 million, isn't getting enough attention.
Watch Waltz's full statements on Tarzan in our interview clip below.
Christoph Waltz next will be seen in Spectre, which sees Daniel Craig's 007 on a mysterious but personal mission. Also featured are Lea Seydoux as Madeleine Swann, Monica Bellucci as Lucia Sciarra, Dave Bautista as Mr. Hinx, Naomie Harris as Moneypenny, Ben Whishaw as Q, and Ralph Fiennes as M. The film will hit theaters this November 6.
Your Daily Blend of Entertainment News
Thank you for signing up to CinemaBlend. You will receive a verification email shortly.
There was a problem. Please refresh the page and try again.