The Live-Action Tarzan Is Apparently A $180 Million Mess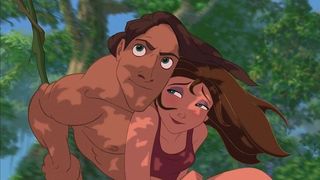 With Warner Bros. still reeling from the fact that Pan lost them a monumental amount of money, they have now had to move onto their next crisis with the revelation that their Tarzan reboot has hit some issues, too. And these aren't just minor issues. Because the $180 million blockbuster is in a bit of a pickle, it remains unfinished, and its director has already moved on to his next project.
According to The Hollywood Reporter, David Yates still has a "considerable" amount of work to do before Tarzan'sr elease date of July 1. And while that might seem like a lifetime away at the moment, it will come around in a speedy and forthright manner, especially when there is so much money at stake. Rather than feeling the burn over the unfinished Tarzan's impending release date, Yates has taken a rather unique approach to dealing with the pressure: he's started shooting his next film, which just so happens to be J.K. Rowling's Fantastic Beasts And Where To Find Them.
The fact that Yates has left behind the $180 million Tarzan, which is set to glisten with stunning visual effects - if they're finished on time - has left some Warner Bros. executives a little bit nervous. They're worried that the film isn't going to get the attention that it desperately needs.
Various fingers are now being pointed at whoever's decision it was to take David Yates off of Tarzan when he still had several months of post-production still to oversee. Because of the decision, Tarzan could find itself being rushed to completion since Yates, a veteran of four Harry Potter films who has been shooting Beasts since August, hasn't be there to give it his undivided attention.
And from accounts in the trade, Tarzan, which stars Alexander Skarsgard as the titular character and Margot Robbie as Jane, hasn't been met well by Warner Bros. executives, who were left very disappointed with its early screenings. They were able to remain open-minded because the film is far from finished, but the fact that David Yates is now trying to juggle two huge productions at the same time has got them extremely nervous. Especially since Pan flopped so badly.
Because Tarzan is another Warner Bros. project, it's safe to assume that the studio probably isn't overly mad at Yates for getting to work on the Harry Potter prequel, which remains a huge priority for the studio and is likely to eclipse Tarzan in budget and in box office return. In fact, a source for the studio explained to THR that this move from Tarzan to Fantastic Beasts And Where To Find Them was planned all along. Honest. The insider admitted that it is a rather unorthodox move, but the studio is still "extremely comfortable with the productions timelines," which have been set in stone for several months.
If need be, though, there has already been rumors that Tarzan might be pushed back a few months to give the film time to finish. This was a tactic that Warner Bros. used with both Jupiter Ascending and Pan. But the fact that both of these were huge flops for the studio means that it's a plan that could be fraught with terrible financial repercussions for them.
Your Daily Blend of Entertainment News
Thank you for signing up to CinemaBlend. You will receive a verification email shortly.
There was a problem. Please refresh the page and try again.