Watch Christoph Waltz Officially Kill The Spectre Blofeld Rumor In One Frustrated Speech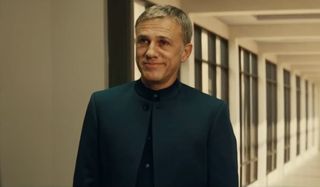 In a dark room at the end of a long, shadowed hallway, I learned the first rule of talking to Christoph Waltz about James Bond: don't bring up Blofeld. I interviewed him while visiting the set of Spectre many moons ago, and the Blofeld chatter was the hot ticket rumor at the time. The Oscar-winning actor was having none of it. Watch his latest response below.
Long story short, he outright denies that his Franz Oberhauser character is secretly the famed Bond villain and leader of the SPECTRE organization. He said,
Rumors about Waltz's hidden agenda in the film arose a while back, even as far as before the big press conference when he was announced for the film. In addition to fan speculation — after all, the name of the film is Spectre — a report on The Daily Mail claimed that Oberhauser was a smoke screen a la Benedict Cumberbatch's John Harris in Star Trek Into Darkness. Despite Waltz's repeated dismissal of the rumor, it was hard to forget folks like Cumberbatch and Marion Cotillard (for The Dark Knight Rises), both of whom told press they were not playing the characters for which they were rumored. In the end, though, they actually were.
After addressing the Blofeld rumor, Waltz had some thoughts — though at times understandably frustrated thoughts — about the larger issue of Internet buzz and my initial phrasing of the question ("So, it seems that the Internet has decided you're going to play Blofeld"). He explained to us:
So, that's that. No more Blofeld questions, unless you want to, as Waltz joked, "suffer the consequences." Though, Neil Gaiman, who envisioned the Internet as a modern deity in his novel American Gods, would be interested in this conversation.
Today, we are celebrating Global James Bond Day, which is the anniversary of the theatrical release of Dr. No, the first James Bond film. Later this year, Christoph Waltz joins Daniel Craig, Lea Seydoux, Monica Bellucci, Dave Bautista, Ralph Fiennes, Ben Whishaw, Naomie Harris, Andrew Scott, Rory Kinnear, and Stephanie Sigman in Spectre. The film picks up after Skyfall, and sees James Bond on a personal mission as a villainous organization emerges from the shadows. Spectre will bow in theaters on November 6.
Your Daily Blend of Entertainment News