Howard Stern Once Tried To Make A Marvel Movie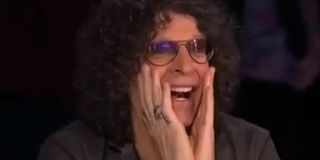 Ant-Man is already a phenomenon in the superhero movie genre. A D-list comic book hero who can shrink down to the size of an ant while gaining super-strength earning the top spot at the box office seems farfetched, but what's even weirder is the man who almost made an Ant-Man movie before the Marvel Cinematic Universe was even a thing. That man is Howard Stern.
As reported by HitFix, the America's Got Talent host revealed this fun tidbit on his radio talk show, The Howard Stern Show, while interviewing the current Ant-Man, Paul Rudd. He said:
Can you imagine what Ant-Man would look like with Stern producing or, even more interesting, starring? We're still trying to envision what Edgar Wright's version would be, let alone something as odd as this. HitFix also points out that Stern has a longer history with superhero movies than most think. After Batman & Robin starring George Clooney and Chris O'Donnell, Warner Bros. reportedly sought out Stern to take on the role of Jonathan Crane, a.k.a. Scarecrow. The never-made sequel was also said to feature the return of Jack Nicholson's The Joker in a hallucination segment with Batman. Unfortunately, Batman & Robin performed poorly at the box office and critics tore it apart, which caused the studio for scrap this idea.
Peyton Reed's Ant-Man is currently in theaters, and though it's the #1 movie in the country, its numbers are still the lowest opening weekend of a Marvel movie since 2008. In its defense, it was a hard sell to begin with. Even with Rudd starring as reformed thief Scott Lang, who's trained to become the Ant-Man by Michael Douglas's Hank Pym and Evangeline Lilly's Hope van Dyne, the character is both obscure and unconventional for mainstream audiences. When you also factor in the ongoing production woes, including the departure of Edgar Wright over creative differences, and the struggle to refigure the script, gaining Guardians of the Galaxy-level success seemed like a stretch. But, hey, we're only going into the second week of release, so perhaps things could change for this little hero that could.
Ant-Man also features Corey Stoll as Darren Cross/Yellowjacket, Michael Pena, T.I., Bobby Cannavale, Judy Greer, Hayley Atwell as Peggy Carter, John Slattery as Howard Stark, and Anthony Mackie as Falcon.
Your Daily Blend of Entertainment News