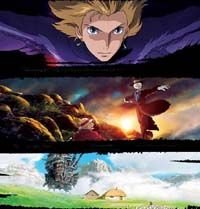 People tell me we don't cover anime enough. Well here's your coverage.
Hayao Miyazaki, often touted as Japan's greatest filmmaker and noteworthy as the guy responsible for making one of the few animated films I actually like, has a new movie. It's called Howl's Moving Castle, and the trailer for it has a scarecrow in it. This lead's me to believe it may be pretty good, since his last film Spirited Away was pretty good primarily because it ripped off "Alice in Wonderland". If this one rips off a little "Wizard of Oz", it can only help.
Aint-It-Cool-News was lucky enough to be able to premiere Disney's new trailer for the film today, and it really looks gorgeous. Sure, the giant anime eyes are annoying, but you've gotta love any movie with a gigantic walking castle. If this was an American movie, no doubt the title would just be some damn stupid metaphor and star Renee Zellwegger. Use the links below to watch the thing in one of four sizes (whichever your bandwidth can stand), and root for a cameo by the Yellow Brick Road.
Your Daily Blend of Entertainment News
Thank you for signing up to CinemaBlend. You will receive a verification email shortly.
There was a problem. Please refresh the page and try again.