Hulk In Guardians Of The Galaxy Vol. 2? Here's What James Gunn Said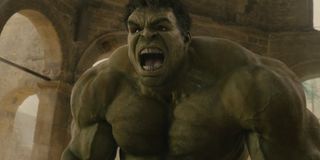 One of the biggest Marvel fan theories out on the web is that Hulk will make his way into Guardians of the Galaxy, Vol. 2. Unfortunately, some theories are just that — theories. Director and screenwriter James Gunn addressed the matter — once again — on Twitter and put an end to speculation…for the time being, anyway.
Twitter user @Holmster79 tweeted to Gunn during one of the filmmaker's impromptu question-and-answer sessions, and asked about Hulk potentially appearing in the upcoming sequel, slated for 2017. The filmmaker responded with a pretty clear cut answer.
The rumor of Hulk's arrival in Marvel's galaxy far, far away began with a report regarding the events of Age of Ultron. After Earth's Mightiest Heroes see Hulk lose his cool on a city, it was rumored that they would blast Bruce Banner off into outer space as a means of containment, thereby hurdling him into the path of Star-Lord and the Guardians. If we go back even further, there was a massive rumor that suggested this was all to set up an adaptation of the Planet Hulk storyline from the comics. Though, all of these reports were debunked over time.
So, if Hulk doesn't appear in Guardians of the Galaxy 2, where will he show up next? At the end of Age of Ultron, after Banner helps the Avengers defeat Stark's mad robot, he goes off the grid, believing himself to be a harm to everyone and everything around him. Nick Fury tells Black Widow that his quinjet was found to have touched down in the near vicinity of Fiji, though he could arguably be anywhere.
Mark Ruffalo recently spoke about Hulk's next appearance in the Marvel Cinematic Universe. He revealed to an Italian publication that his character was originally supposed to appear in next year's Captain America: Civil War, but he was cut from the script. He explained:
It's difficult to even speculate where Hulk could pop up next. It was a natural progression for Black Widow to pop up in Captain America: The Winter Soldier, since she would likely have accompanied Cap on his missions with S.H.I.E.L.D. It's also easier for minor characters, like Falcon, to be sprinkled about, but Hulk is such a major character, and Mark Ruffalo likely comes with a hefty price tag. So where could be make the most bang for Marvel's buck?
We'll find our more as Phase Three continues to take shape. Next year will see the release of Captain America: Civil War and Doctor Strange, while solo films for Black Panther, Spider-Man, and Captain Marvel will debut before the two-part Avengers: Infinity War commences. There's no way Hulk will be left out of Infinity War. Right?
Your Daily Blend of Entertainment News
Thank you for signing up to CinemaBlend. You will receive a verification email shortly.
There was a problem. Please refresh the page and try again.