New Hunger Games: Mockingjay Trailer Reveals The Real Reason Katniss Fights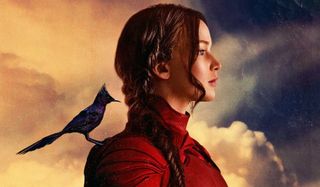 At the risk of breaking into a full-on musical number from Mulan, Katniss has a girl worth fighting for. Her sister Primrose has been the driving force behind most of her actions in the Hunger Games films, and she gets a proper tribute in the latest Mockingjay, Part 2 trailer. Watch it below.
The new footage from the final Hunger Games installment doesn't offer much in the way of new looks, but it takes us through Katniss' relationship with Prim. It begins with the moment she volunteered to replace her in the Games, and leads up to a brief snippet of the two dancing at Finnick's wedding to his beloved Annie in District 13 in the upcoming film. As President Snow warns Katniss in the last film, "It's the things we love most that destroy us." The inclusion of this line in the trailer, accompanied to ominous music, seems to hint at the book's ending.
Beware of massive spoilers from Suzanne Collins' final book. Seriously, leave now if you do not want to be spoiled.
Still here? OK, Prim does not live long enough to see a world without the tyrannical force of the Capitol. It's unclear whether this plot point will make it into the movie, though we can't see how you leave it out. The Hunger Games has been diverging from the source material quite a bit, one of the notable details being the expanded role for Elizabeth Banks' Effie. This, however, is such a crucial point that we wouldn't be surprised if the film forced us to relive this devastating moment all over again.
In addition to the new Mockingjay, Part 2 trailer, Lionsgate released a new poster featuring our Girl on Fire (Jennifer Lawrence) staring heroically off into the distance.
Armed with President Coin's rebel army, Katniss makes her final stand against President Snow by leading an assault on the Capitol. What starts out being an already difficult mission, however, quickly turns into another Hunger Games arena; Snow has tricked out the city with booby traps, monstrous mutations, and other dangers at every turn.
The Hunger Games: Mockingjay, Part 2 will hit theaters on November 20. However, fans can reserve movie tickets starting at 12 p.m. EST on Thursday, October 1. Those who purchase their tickets within the first 24 hours will also receive a bonus digital download of Mockingjay, Part 1. The studio will also be presenting The Hunger Games Double Feature. In the tradition of those epic Marvel movie marathons, Lionsgate will host back-to-back screenings of both Mockingjay parts starting on Wednesday, November 18, that will also include exclusive on-screen content and giveaways.
Your Daily Blend of Entertainment News