This Hunger Games Pie Looks Delicious, Learn How To Make It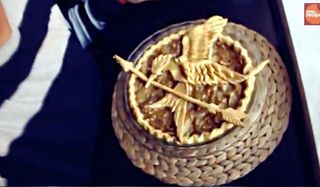 He taught us how to channel out love of dancing Groot into adorable cupcakes, now JK Denim is giving us a welcomed tutorial on how to satisfy our cravings for The Hunger Games: Mockingjay - Part 1 with a delectable fan art pie!
JK Denim is a baker with bravado, transforming tasty creations into awe-inducing fan art. And on his webseries, he steps even the most amateur would-be baker through simple steps to make incredible creations. In the video up top, it's a Hunger Games fruit pie, distinguished by its Mockingjay logo. You might think that looks way too complicated to actually pull off, but JK's got you covered, offering a helpful stencil along with instructions for how to craft the perfect pie for the Hunger Games fan in your life. This recipe is all the more fitting since one of the series main characters is a top-notch baker. (Hey, Peeta.)
This vid spares us the nitty gritty on making the requisite doughs, but JK's got recipes for both shortbread and apple pie, in case you need some help there. Once you've placed your dough and crimped it, you fill it up with the fruit of your choice. Roll out your shortbread dough, cut it to the stencil he's provided. JK breaks down the careful application of the how these bits of cut dough will all fit together. Bake as directed above, and for an added dash of Capitol style glitz, spray your creation with some edible gold spray ("spray paint for your food!") And voila!
JK is adorable. At the end of his video, he stares at his Hunger Games pie and admits, "Sometimes I look at the things that I make, and I'm just in awe." Us too, buddy.
With Thanksgiving approaching along with the release The Hunger Games: Mockingjay - Part 1, this beautiful pie would be the perfect thing to roll out with for the big family meal. But with Halloween just around the corner, might we also suggest some other fan art recipes? How about a giant cookie that pays homage to the new horror movie Ouija?
Or maybe you'd like to toast the Day of the Dead with Book of Life-themed cake!
There's plenty more awesome movie-based recipes, so check 'em out and start cooking!
Your Daily Blend of Entertainment News
Staff writer at CinemaBlend.