Hunger Games Screenwriter To Make Directing Debut With J.D. Salinger Biopic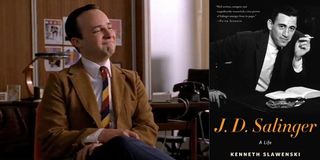 Danny Strong is a television actor and fast-rising screenwriter, but like everyone else in Hollywood he wants to direct. With a move sure to raise some eyebrows, he's set his sights on making a biopic about one of the world's most reclusive celebrities.
THR reports Danny Strong has announced plans to make Salinger's War, a drama about the life of Catcher in the Rye author J.D. Salinger. Strong was so fascinated by Salinger, an author who long shied away from the spotlight and fans, that he personally bought the movie rights to Kenneth Slawensk's biography JD Salinger: A Life, with the goal of adapting it. The resulting spec script won the interest of Black Label Media, which is now financing Salinger's War.
A national bestseller culled together from interviews, letters and public records, JD Salinger: A Life's summary is as follows:
Similarly, Salinger's War will chronicle the author's early struggles, through his creation of his most beloved character, Holden Caulfield, through the perils and torments of his service in World War II.
Adoration for his subject aside, this is a very bold movie by Danny Strong. By the public, he's best known for recurring roles on Buffy the Vampire Slayer, Gilmore Girls, and Mad Men, while industry circles know him better as the scribe behind Lee Daniels' The Butler and The Hunger Games: Mockingjay - Parts 1 & 2. Leaping into directing at all is a risk, but to do it on a biopic that not only demands war scenes but also centers on a mysterious yet deeply beloved figure is far riskier. The "getting it wrong" potential is much higher for projects like these. But perhaps worst of all is the nagging thought that Salinger himself would hate a movie--any movie--made about his life.
While Salinger's daughter Margaret has claimed her father to be a movie lover, he'd had a bad run-in with Hollywood in 1949, when one of his short stories was poorly adapted into critically reviled romance My Foolish Heart. This was the first and last time Salinger ever allowed one of his stories to be optioned. Moreover, when it came to putting his own life on display, he took great pains to avoid it.
As The Catcher In the Rye caught fire, J.D. Salinger moved from the thick of Manhattan to the small town of Cornish, New Hampshire. From there, he continued to withdraw, not just from the press and public life, releasing less and less of his writing, but also his family. He escaped his audience, but generations of readers never forgot him or--perhaps more importantly--his beautiful and bittersweet works, which also included Nine Stories, Franny and Zooey, Raise High the Roof Beam, Carpenters, Seymour: An Introduction and a string of short stories.
Frankly, I'm torn. Part of me would love to see these pockets of Salinger's life illuminated on screen. But another part of me feels guilt over the likelihood Salinger himself would loathe such a thing. What say you?
This poll is no longer available.
Staff writer at CinemaBlend.