Hysteria Scribes Hired to Rewrite Reese Witherspoon's Pioneer Woman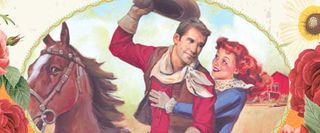 The success of the blog turned book turned movie Julie & Julia sent Hollywood on a frenzied search to uncover possible blogs for film adaptations. Back in 2010 Sony had jumped on mommy blogger Ree Drummond's The Pioneer Woman, optioning it for a possible Reese Witherspoon vehicle. The blog—like the book that would follow The Pioneer Woman: From Black Heels To Tractor Wheels—detailed how Drummond's kismet meeting with a charming cowboy inspired her to leave behind her city slicker life in favor of a home on the range.
With Witherspoon's warm yet sharp charisma, this proposed picture seemed a good fit for her. Unfortunately, The Pioneer Woman stalled out in 2011 when executive producer Laura Ziskin died. The unfinished screenplay—penned by Robert Harling of Steel Magnolias fame—was shelved and he moved on to create the ABC dramedy series GCB. Witherspoon remained attached to the property, but the future of The Pioneer Woman movie was uncertain.
Now, at long last it seems The Pioneer Woman will ride again. Julie & Julia producer Laurence Mark and former president of Laura Ziskin Productions, Pam Williams, have recently been on the search for a fitting screenwriter to finish the forgotten script, and Deadline reports they've now got two, hiring Hysteria scribes Stephen Dyer and Jonah Lisa Dyer to rewrite Harling's draft. This is an inspired pick on Sony's part as the married screenwriting team found inspiration for their Tribeca Film Festival offering by looking into the surprising true story of the invention of the vibrator, which was created as a tool to cure women from the amorphous disorder for which the movie is named. The Dyers were able to look at a tale that on its face seemed absurd and found the humanity of it without killing the humor. It's a tricky balance that's winning the comedy attention, and should serve The Pioneer Woman well.
Staff writer at CinemaBlend.
Your Daily Blend of Entertainment News
Thank you for signing up to CinemaBlend. You will receive a verification email shortly.
There was a problem. Please refresh the page and try again.