Ian McKellen Will Play A Retired Sherlock Holmes For Fifth Estate Director Bill Condon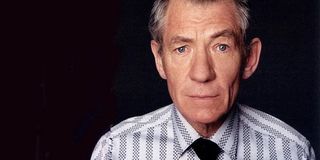 At some point we're going to have to cry uncle and admit that there are too many Sherlock Holmeses running around in pop culture right now… but I think we can make room for Ian McKellen in the meantime. At the Toronto Film Festival director Bill Condon announced, via Deadline, that he will direct McKellen in A Slight Trick Of The Mind, in which McKellen will play a retired Sherlock Holmes still haunted by a case from 50 years in the past. The film will be based on a novel by Mitch Cullin, which describes itself this way at Amazon:
Condon directed McKellen to an Oscar nomination in 1998's Gods and Monsters, and this will be their first reunion since then. The two have obviously been staying busy in the meantime-- McKellen is about to reprise his role as Magneto for next year's X-Men: Days of Future Past, while Condon is at Toronto premiering his new film The Fifth Estate. Funnily enough that one stars Benedict Cumberbatch, who's played probably the most memorable modern version of Sherlock Holmes on BBC's Sherlock. Think there's going to be a rivalry between Condon's two leading men about how well they wear the deerstalker hat?
McKellen has a sterling reputation thanks to films like Gods & Monsters or Richard III, but he's spent the last decade largely in giant blockbusters, whether playing Magneto or Gandalf in The Lord of the Rings films (and now the Hobbit trilogy) or popping up in something like The Da Vinci Code. His presence elevates all of these giant films, of course, but it will be interesting to see him turn again to a meatier lead role, especially when embodying one of history's most famous fictional characters (yes, even more famous than Gandalf). McKellen will next be seen as the grey wizard in this winter's The Hobbit: The Desolation of Smaug, and opposite Cumberbatch as the titular dragon, no less. For a look at Condon's next film, check out the trailer for The Fifth Estate below, and catch it in theaters on October 18.
Staff Writer at CinemaBlend
Your Daily Blend of Entertainment News
Thank you for signing up to CinemaBlend. You will receive a verification email shortly.
There was a problem. Please refresh the page and try again.