Ian Somerhalder Says He Could Potentially Star In Fifty Shades Of Grey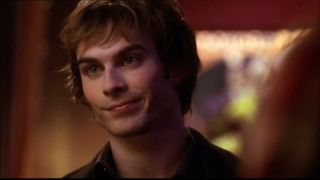 (Image credit: Warner Bros.)
If there's a Venn Diagram of "things many modern women like," there's surely a hearty overlap between The Vampire Diaries-- the soapy CW drama-- and Fifty Shades of Grey, the literary sensation about an S&M relationship that originally started out as sexier fan fiction for another vampire saga, Twilight. And with Fifty Shades of Grey now set to become a movie, that Venn diagram relationship could get a little bit tighter, with Vampire Diaries star Ian Somerhalder "potentially" up for a starring role in the film.
That word "potentially" is pretty key, since it's the only indication that Somerhalder gives in the below interview with Ryan Seacrest that he's doing anything but dreaming about landing this huge role. Seacrest brings up the book because he's heard "rumblings" that Somerhalder could play lead character Christian Grey, and Somerhalder predictably plays coy, while admitting that he'd love to play the role and has been reading the book himself. You can check out the entire interaction for yourself in the video below (via Digital Spy):
Now, how much you choose to read into any of this really depends on how famous you think Somerhalder is. He's had steady roles on TV for nearly a decade now, starting with Lost and now with Vampire, but he's far from a household name. That could work in his favor, given that Universal is apparently planning to hire newcomers in the same way Summit plucked Robert Pattinson and Kristen Stewart out of relative obscurity, but his TV work might also make him a little too famous for the job.
Suffice it to say, this is all speculation for now. But for any Fifty Shades fans out there, do you want Somerhalder to get the job? Or do you have other suggestions who might be even better?
Your Daily Blend of Entertainment News
Staff Writer at CinemaBlend