The Imitation Game's Sketchy Oscar Campaign Is Pissing A Lot Of People Off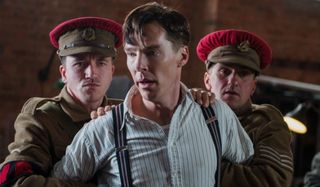 For a while before the Oscar race began, it looked like the front-runners for Best Actor were down to Eddie Redmayne (The Theory of Everything) and Benedict Cumberbatch (The Imitation Game). Both were Brits tackling "true stories" behind the prominent historic figures of Stephen Hawking and Alan Turing. As time went on, Redmayne has been besting Cumberbatch in everything from the Golden Globes to the SAG Awards. While these victories were well deserved, the promotional campaign for The Imitation Game speaks to a larger issue that could've affected its Oscar chances.
Harvey Weinstein and Cumberbatch himself have been campaigning for the film during awards season with the following angle: choose our film because we're also fighting to pardon all those who were criminalized for being gay. As The Hollywood Reporter notes, billboards and ads for the film state:
Many are now criticizing the film for "playing the gay card," as one commenter put it. Another cited Weinstein's long history with "shameless" tactics, referencing how he set up a meeting between Judi Dench and the Pope in promotion of Philomena.
For those who haven't seen the film, The Imitation Game tells the story of Alan Turing, the man credited with cracking the infamous Nazi Enigma Code and ending World War II earlier than expected. He was also a closeted gay man, and when he was discovered was convicted of "gross indecency." During the time period, it was illegal to be homosexual, and Turing would eventually commit suicide. He was not the only gay man convicted under this archaic law. As the film's billboards note, there are upwards of 49,000 others with this crime attached to their records. Cumberbatch signed an open letter to the British government imploring them to pardon all of these people. Unfortunately, Prince William and Princess Kate rejected their plea, and a rep issued a statement that said the government would not address this issue as it was a government matter. Actors have long used their roles to place a spotlight on issues and injustices, but it seems like this is all Weinstein is focusing on.
To play devil's advocate, The Imitation Game isn't the only Oscar contender to play up its cultural and/or political significance. Though Selma was an exceptional film and proved itself more impactful in light of the current racial climate, it's promotional campaign piggy backed on the protests surrounding the deaths of Eric Garner and Michael Brown. As THR also notes, 12 Years a Slave's ads featured the line, "It's time to see this movie," meaning we should all be taking a look at the harsh reality of slavery. The difference between these films and The Imitation Game seem clear — the injustices depicted in Selma and 12 Years speak for themselves, whereas the argument can be made that Weinstein is trying to force the issue down everyone's throats. However, should we fault one film for doing what many others already have?
Your Daily Blend of Entertainment News
Thank you for signing up to CinemaBlend. You will receive a verification email shortly.
There was a problem. Please refresh the page and try again.