The Incredible Amount Of Money Fantastic Four Might Lose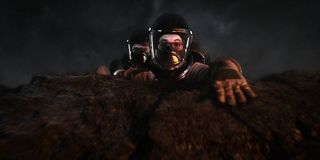 If you've been paying attention to the world of movies even in the most cursory manner this weekend, you know that Fantastic Four is a sizeable mess. And I don't even necessarily mean the movie, that's a whole other thing. There have been back and forth jibes from both the studio and filmmaker, the reviews have been unkind, and audiences stayed away. Fantastic Four didn't win the box office race on its debut weekend, and right now, it stands to lose an startling amount of money.
According to The Hollywood Reporter, one analyst, Barton Crockett, estimates that when all is said and done, Fantastic Four could lose 20th Century Fox upwards of $60 million. Fox has already been very open about the fact that they were going to have a less-than-stellar year, with estimates having the studio earning less money than they did last year, but their latest superhero adventure is underperforming even those lowered expectations.
Domestically, Fantastic Four earned just under $26 million, with a global take of $59 million. To give this some perspective, the 2005 Fantastic Four opened to totals twice this in the U.S. All of this is against a reported budget of more $120 million. And things aren't going to get much better. Reviews have been brutal, and the Cinemascore, which measures audience reaction as they leave the theaters, is a C-, which does not bode well for the film's longevity.
Fantastic Four opened amidst a storm of controversy. There have been rumors and reports circulating for some time about trouble behind the scenes. Director Josh Trank butted heads with the writers and producers—after the release, he tweeted, and then quickly deleted, a message blaming studio interference for the problems—and it was these issues that, whether he quit or got fired, lead to his departure from the standalone Star Wars film he was going to direct.
There were even rumors that X-Men: First Class director Matthew Vaughn was brought in to direct extensive reshoots. All parties roundly denied those rumors, but regardless, watching the movie you can feel the hand of the studio meddling, and the reshoots are readily apparent. Sometimes within a scene, Sue Storm's hair goes from her natural locks to an obvious wig—actress Kate Mara cut her hair after the production for another movie. If you've seen the finished product, you may also have noticed that there are a ton of scenes that figure prominently in the trailers and marketing that are nowhere near the movie. This happens all the time, but rarely are there so many instances.
If you're interested in digging into some of the problems of Fantastic Four, check out THIS ARTICLE that details some of the most major issues.
Even with this dismal showing out of the gate, Fox is apparently committed to Fantastic Four as a franchise, and plans to move ahead with a sequel. Check out THIS PIECE, where we throw out some ideas that could possibly right the ship moving forward.
Your Daily Blend of Entertainment News