Weekend Box Office: Fantastic Four Fizzles, The Gift Keeps Giving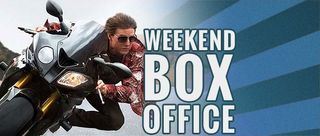 That giant crashing sound you hear might be Fantastic Four's Ben "The Thing" Grimm demolishing something in a devastating way, but more likely its the sound of the attempted franchise reboot utterly collapsing in on itself at the box office.
After a rough week at the hands of critics (a soul-sucking 9% approval rating at Rotten Tomatoes) the newest Fantastic Four tanked hard in theaters, banking just $26 million on its opening weekend, not even enough to push past Mission Impossible: Rogue Nation which held the number one spot with a second weekend $29 million (now at $108 million total).
Given Fantastic Four's reported $122 million production budget, and no major help coming from foreign markets, Fox looks set to take a bath on the super hero reboot project. But fans of the franchise shouldn't panic. Comic book movies are too popular and the Fantastic Four brand too well known for anyone to imagine this is the end. If Spider-man has shown us anything it's that there will always be some knucklehead producer out there ready to bargain on a reboot. It's just a matter of time.
Joel Edgerton, who is better known at present for his acting credits (Ramses in Exodus, Gods and Kings and team leader Patrick in Zero Dark Thirty), released his first feature length writing/directing effort this weekend. His thriller The Gift was a hit with reviewers (an enviable 92% score from Rotten Tomatoes) and, despite only earning $12 million for a third place start, is already a money-maker thanks to a very modest $5 million budget.
That's a huge win for start-up studio STX Entertainment for whom The Gift is its first major release project. Their next release, The Secret In Their Eyes with Julia Roberts arrives in November of this year.
Writer Diablo Cody's latest script project, Ricki and the Flash, starring Meryl Streep and Kevin Cline, had a quiet start, garnering just $7 million for a seventh place start. Meanwhile Aardman, the animation studio famous for the Wallace and Gromit adventures, saw its latest release finally reach the US. Shaun the Sheep Movie has already earned almost $60 million elsewhere in the world, but only added $4 million this weekend in domestic wide release, missing the top ten by one spot.
For the full weekend top ten, check out the chart below:
1.
Mission: Impossible - Rogue Nation

$29,400,000Total: $108,654,000LW: 1
THTRS: 3,988
2.
Fantastic Four *

$26,200,000Total: $26,200,000LW: N
THTRS: 3,995
3.
The Gift (2015) *

$12,007,000Total: $12,007,000LW: N
THTRS: 1,648
4.
Vacation

$9,145,000Total: $37,325,000LW: 2
THTRS: 3,430
5.
Ant-Man

$7,826,000Total: $147,436,000LW: 3
THTRS: 2,910
6.
Minions

$7,400,000Total: $302,754,000LW: 4
THTRS: 3,123
7.
Ricki and the Flash *

$7,000,000Total: $7,000,000LW: N
THTRS: 1,603
8.
Trainwreck

$6,300,000Total: $91,102,000LW: 6
THTRS: 2,525
9.
Pixels

$5,430,000Total: $57,645,000LW: 5
THTRS: 2,864
10.
Southpaw

$4,764,000Total: $40,726,000LW: 7
THTRS: 2,274
Your Daily Blend of Entertainment News
Thank you for signing up to CinemaBlend. You will receive a verification email shortly.
There was a problem. Please refresh the page and try again.