The Incredible Shrinking Man Getting Modern Update From MGM And Richard Matheson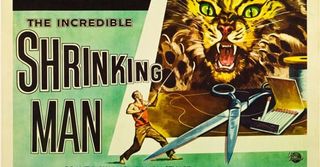 Richard Matheson is a fantasy and sci-fi icon, the writer behind books that inspired the likes of I Am Legend, Duel and even Real Steel. He is also, remarkably, still alive and working on the verge of his 87th birthday, and is now making plans with his son Richard Matheson Jr. to revive one of his most famous stories for the screen.
The Shrinking Man has already been turned into a movie once, 1957's The Incredible Shrinking Man, but the Mathesons are teaming up with MGM to give it another modern update. THR reports that the studio acquired the rights to the book last summer, and they have hired the Mathesons to write the screenplay, which will update the story to include modern updates like nanotechnology, and to get rid of the original cause of the shrinking: an radiation.
Matheson describes the new version of the story as "an existential action movie," and points out that even though the Cold War fears that inspired his original work are no longer relevant, the story's themes remain powerful: , "My original story was a metaphor for how man's place in the world was diminishing. That still holds today, where all these advancements that are going to save us will be our undoing."
The intriguing notion of a human shrunk down to tiny size is still enthralling-- I grew up with Honey I Shrunk The Kids and was completely obsessed-- and it's interesting to think how Matheson could once again turn real-life concerns into sci-fi, but in a completely different era. Universal spent years trying to make another Shrinking Man story before letting the rights lapse. Could MGM finally make it happen?
Your Daily Blend of Entertainment News
Staff Writer at CinemaBlend