Interstellar Is Going To Be An Absurdly Long Movie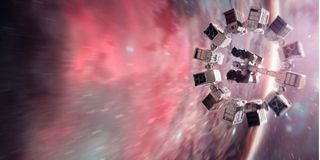 Ever since the first whispers of its existence, Christopher Nolan's Interstellar has been cloaked in mystery. Though the curtain is slowly being parted over time, there are still some key secrets that have been kept close to the chests of those involved at Warner Bros. With almost a month to go until the film's November 7th release date, we just might have our next big piece of information to Interstellar's ultimate voyage. More specifically, we just might know how long the journey is going to take.
According to Australian theater chain Event Cinemas, the Matthew McConaughey-starring cinematic opus of space (and possibly time) travel will be 169 minutes long, which translates to 2 hours, 49 minutes of mind bending meditation on the human condition. It is also Christopher Nolan's longest movie by 4 minutes, beating 2012's The Dark Knight Rises for the title. Of course, this is all still unconfirmed by the studios co-producing this film, so this could be subject to change.
It wouldn't be surprising if Interstellar does end up coming in at the 169-minute mark that Event Cinemas has it down for. As his career has gone on, Christopher Nolan has experimented with film lengths as much as he has film formats, and as sure as this film is going to be released in the glorious 70mm IMAX format, it looks to be a film that is long on time and big on ideas. How Nolan hasn't breached the three-hour mark is beyond anyone's guess, though it probably has something to do with the fact that the maximum length of an IMAX film (as opposed to a Digital IMAX projection) is a little under three hours.
With almost three hours and a story that spans a wide expanse of time and space, Interstellar looks like it just might live up to the hype the trailers have generated. If that's the case, then the days of the thought fueled/visually driven science fiction film (like 2001: A Space Odyssey) might be upon us again. Even better still, this film is almost assuredly going to be nominated for a couple of Academy Awards in next year's awards race, especially considering it has past winners like Matthew McConaughey and Anne Hathaway in two of the lead roles.
For now though, all we can do is speculate... and watch that sweet-ass trailer a couple more times to keep us hyped up.
Interstellar will take audiences further than they've ever gone on November 7th, in conventional and IMAX theaters. Here's hoping that whatever Christopher Nolan has up his sleeve this time around is just as exciting as it looks.
CinemaBlend's James Bond (expert). Also versed in Large Scale Aggressors, time travel, and Guillermo del Toro. He fights for The User.
Your Daily Blend of Entertainment News
Thank you for signing up to CinemaBlend. You will receive a verification email shortly.
There was a problem. Please refresh the page and try again.