Interview: Caroline and Jackie's Marguerite Moreau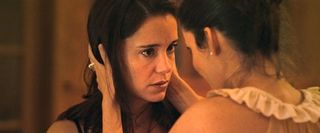 Regardless of whether or not you know what you're getting into when catching a new movie, there's no way to prepare yourself for such raw performances like the ones you get from Marguerite Moreau and Bitsie Tulloch in Caroline and Jackie.
They star as Caroline and Jackie, sisters who haven't seen each other in quite some time. When Caroline comes for a visit, Jackie is thrilled to play host to her sister. She even cooks dinner for Caroline's first night there. However, being the more impulsive one, Caroline insists they go out for dinner instead. Jackie adapts, enjoying what turns out to be a surprise party, but when the focus shifts from celebration to interrogation and anxiety, we're left to figure out whether Caroline's accusations are true, or if Jackie's insistence that her sister is just desperate for attention is the case.
Caroline and Jackie isn't anywhere close to your average family drama, both in terms of the emotion of the final product and the production process. In honor of Caroline and Jackie's world premiere at the Tribeca Film Festival, Moreau sat down to chat about working on a film with just an outline, working in a highly improvisational environment, sustaining notably long takes and more. Catch the full video interview for yourself below.
Your Daily Blend of Entertainment News
Staff Writer for CinemaBlend.
Your Daily Blend of Entertainment News
Thank you for signing up to CinemaBlend. You will receive a verification email shortly.
There was a problem. Please refresh the page and try again.