Interview: For Colored Girls Star Anika Noni Rose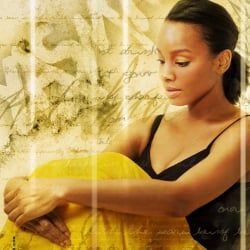 For Colored Girls boasts an astonishing cast of actresses, from veterans like Phylicia Rashad and Whoopi Goldberg to up-and-comers Kerry Washington and Kimberly Elise, but for me the standout was Anika Noni Rose, as the bubbly and optimistic dance teacher who is forever changed when she is raped on a date. Her story is just one of the many tragic threads of the film, which is about both the horrors that can befall women and the hope they can gain through their relationships with each other. It's a heavy film but, for me, a worthwhile one, if only to see actresses like Rose perform in such meaty roles.
After getting her start on Broadway and winning a Tony for her performance in Caroline or Change, Rose has been making her way into film and television, with roles on The Starter Wife and The No. 1 Ladies Detective Agency as well as voicing Disney's first African-American Princess, Tiana, in last year's Princess and the Frog. Though she's still making her name in films Rose is careful with her script choices, and told me she initially turned down For Colored Girls when it came her way a year ago. Check out our interview below, in which she explains what made her change her mind, why she identified with her character. and the ways in which the world hasn't changed all that much since the original play For Colored Girls was written in 1975. The movie opens this Friday.
You passed on one version of the script before receiving another version that convinced you to consider the film. What changed that made you reconsider?
I don't know how to explain it, but there were a lot of things that were different-- things people say, how people were interacting, different. And I thought more feasible to me, and more easily available for the screen.
As opposed to being linked to the play?
No, just as opposed to being something I didn't think was going to work on film. I just didn't think the first thing I read would work. The second thing I really liked. And along with the offer came the names Phylicia Rashad and Loretta Devine, which really helped. If I didn't feel as good as I did about the script and I heard those names, it would have assisted. I know Ms. Phylicia Rashad is not going to be in some mess. I didn't know everybody who was working on it, but every time I heard a new name, I was more excited.
What was the specific connection you felt to your character?
I just understood her very well. I loved the light within her. She was such a bright light, such a positive, forward-looking person. She loved music, she's somebody who walked around with a soundtrack. And I get that. Sometimes i'm walking down the street in New York and I see things, and it just triggers a song that I know, that I can feel within me. Her life is changed dramatically and irrevocably, but I thought it was a very interesting journey to be able to play, because she doesn't stay in that buoyant place.
The movie ends on a note of hope, but she's obviously been through this trauma. Is that light dimmer, or coming back?
I think it's much dimmer, but i think there is a catharsis at the end of the piece that allows her to open up to it growing. She won't be the same, but she's not going to just lay down and give up either.
That hospital monologue is where you see the change, with the camera that just pushes in on you. Were you more prepared for that because of your theater background, and how did you prepare it?
I prepared it the same way I prepare theater, absolutely. I think the words are so poignant and so strong, I wanted them to be heard. I wanted them to be heard for every single woman who has gone through something when they're had their spirit stripped from them. So that was my focus point, deep within those words, to find out where she's coming from, and to make sure that I understood it as strongly as I could.
The play was written in the 70s, but so many points in that monologue about rape are things people still don't real recognize. Does it depress you that we still think of things that way?
It doesn't depress me. If anything, I'm glad that it's being said. It's unfortunate that we still have to think about those things as women, that we still haven't gotten to that point in society where we're cherished enough not to be hurt for sport. I don't know when that will ever happen. But what has happened is that we now open our mouths and speak on it. that's a good thing. And everybody can't, and I don't feel that the person who feels they can't open their mouth is any less strong than the person who screams from the mountaintops, "I've been hurt, I've been changed." But when someone can and does it changes the path of somebody else, and that's a good thing. That's how I have tot ink of it. If we were depressed and hurt about all the things that haven't changed, we'd never get out of bed in the morning.
Staff Writer at CinemaBlend
Your Daily Blend of Entertainment News
Thank you for signing up to CinemaBlend. You will receive a verification email shortly.
There was a problem. Please refresh the page and try again.