Interview: Crank 2's Bai Ling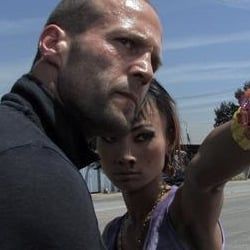 Having seen and puzzled over many of her red carpet shots and previous interviews, I really, really didn't know what I was getting into when Bai Ling called me on the phone. The Chinese-born actress is known as much for her acting (in Southland Tales, one episode of Lost and many others) as her outrageous and fearless fashion sense. But all of that seems to come together perfectly in Crank 2, a movie that's about as over the top and out-there as outfits like this one.
And on the phone, her enthusiasm for what she calls "the most free, crazy experience I've ever had as an actress" carries the conversation along, as she tells me about doing all her own stunts, getting the part that was probably not intended for an Asian actress, and even her role in the upcoming Love Ranch, in which she plays a prostitute at a brothel run by Helen Mirren and Joe Pesci. Yup, sounds just about weird enough for Bai Ling.
Listen to our interview below!
Your Daily Blend of Entertainment News
Staff Writer at CinemaBlend