Interview: Melanie Laurent Makes Her Big American Leap With Beginners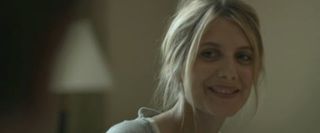 Melanie Laurent became a cinema icon with her first major American role, playing the avenging Shosanna Dreyfuss in Quentin Tarantino's gonzo war epic Inglourious Basterds. Not bad for a French actress who virtually no one had heard of before, but quite a hard act to follow. Laurent stuck around France and made a few films following Basterds' enormous success, and for her first English-speaking role has opted for something on a much smaller scale, playing the romantic interest to Ewan McGregor's character in Mike Mills's new film Beginners, which opens this Friday.
Last week I talked to Laurent about making the leap into American films and picking her roles carefully, plus the weird experience of playing a character who's an actress, and acting opposite the terrier who accompanies McGregor's character everywhere he goes, but didn't take to Laurent nearly as well. McGregor plays a man who's starting a relationship with this intriguing young actress while also mourning his father (Christopher Plummer), who came out of the closet just five years before he passed away. The movie combines the rush of a new romance with the lingering memories of a recently passed relative in an effective and sometimes surprisingly funny way; Laurent's role could have been the typical dream girl who helps our hero out of his funk, but as you can probably guess, she brings a lot more to it. Check out our conversation below.
Your Daily Blend of Entertainment News
Staff Writer at CinemaBlend