Interview: A Perfect Getaway's Tim Olyphant And Kiele Sanchez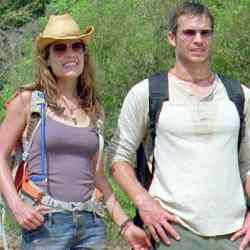 It's hard to talk about A Perfect Getaway on tape. Not because the paradise-set thriller doesn't have anything going on it, but because there's a twist halfway through that makes the rest of the film impossible to discuss without spoiling.
So when we sat down with Kiele Sanchez and Timothy Olyphant, we didn't talk much about their rough-and-tumble characters or how they turn out in the film. Instead, we stuck to the marijuana laws of Jamaica, kayaking and Kiele and Timothy's stints on Lost and Deadwood, respectively. And because these two are so dynamic, it turned out hilarious anyway. Read the brief interview below, and check out A Perfect Getaway in theaters starting today.
Did you see the final 30 minutes of the movie coming when you first read the script?
Timothy: No. Well, that's not true.
Kiele: I really didn't. But you're smarter than I am, so that makes sense.
Timothy: I just read really slowly, so that helps. I don't recall. But I do remember I remember the moment I figured it out, before it happened.
Kiele: I had no idea if I was the killer.
Did you have to go through a lot of physical training to make the movie?
Kiele: I was actually training for a marathon anyway, so I was already kind of doing a lot of physical activity as far as that's concerned. I ddin't do a lot of training as far as fight training, because I didn't think that my character would be a professional fighter.
It seems like you guys had a good time shooting out there in the jungle, hanging out on the set waiting for the weather conditions to cooperate.
Timothy: We really did click as a group from the jump. It was a lovely group of actors, on and offscreen. It was really fun from the first rehearsals. Steve, Milla and Kiele, they're all very spontaneous, they're all very present. Invariably you always sit around on any set, and here we got to sit around on the beach, on the rocks.
Kiele: The rainforest.
Timothy: They'd be like, cut, and you'd be like, OK, I'm just gonna kayak. I'm already in the kayak. Steve and I got to go to Jamaica. You didn't get to go.
Kiele: I don't want to talk about that.
Timothy: Yeah, it was beautiful.
But Kiele, weren't you part of that scene by the cave? You were on top of the cave?
Kiele: I was on the bubble of going. You may be going to Jamaica, you may not be going to Jamaica.
Timothy: You should go. I highly recommend Jamaica. You can get weed from anyone at any time. You don't buy it, because everybody has it. There's no weed for sale.
Kiele: Because that would be illegal.
Timothy: Apparently in other places. I walked by the gardener at the hotel and he reeked of weed. Then you go to the lobby, and they're also high. You can get room service to bring you weed. I am not making it up. They'll leave it on the bedside table. Part of the turndown service. A little joint on the bedside table.
Kiele, the last time we saw you tramping through the jungle was on Lost.
Kiele: It's interesting. It was always going to be just a guest star role. I didn't think I was going to be sticking around for too long on the show. The only thing that was disappointing was, I feel like fans felt a little betrayed by the fact that there was these other people that you just didn't see, that had been there the whole time and here they are. I felt the fans' disappointment, and i understood it.
Do you feel glad to have been a part of this fan world? Because I think fans like you as well.
Kiele: Totally. I am honored to be a part of a show that I think is, it's a phenomenon. To be part of that in any way, I'm really happy with. And I was really happy with the episode that I got. I thought that it was really awesome, and I felt lucky. It was a good death. And I love that it was done by the heroes of the show. They're burying two people who are actually alive. Tim, how about the role that Deadwood keeps playing in your life? And your recent role on Damages?
Timothy: Deadwood was an experience that kind of keeps on giving. Milch is a really inspiring, creative force, and I feel like I draw from that a great deal still. With both those shows, it's really wonderful to be on something that you're proud of, just to be a part of it. Both those experiences fall into that category.
Your Daily Blend of Entertainment News
Staff Writer at CinemaBlend