Iran Got Its Own Vampire Movie And It Looks Badass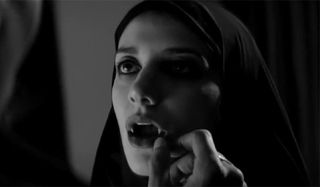 The first trailer for Iran's first ever vampire Western entitled, A Girl Walks Home Alone At Night, has been released and it's hard not to immediately be enamored with it. Watch it below!
Written and directed by Ana Lily Amirpour and produced by Elijah Wood, A Girl Walks Home Alone At Night is set in the desolate imaginary Iranian town of Bad City. It stars Sheila Vand as The Girl, a vampire who is stalking the town's inhabitants, but is incredibly lonely herself. The peculiar village is inundated with death and alienation, and no one who resides there is even aware that there is a vampire walking its streets. A Girl Walks Home Alone At Night has picked up plenty of positive reviews since it was screened as part of the "Next" program at the 2014 Sundance Film Festival. The first trailer confirms all of the positive vibes that have emanated regarding the intriguing effort.
There is some very spooky stuff featured in the trailer. You immediately get a sense of A Girl Walks Home Alone At Night's haunting visuals and peculiarly hypnotic mood, which you can't help but be both creeped out by and engrossed in. A hoard of American filmmakers seem to have influenced Ana Lily Amirpour's style and you can immediately see shades of Francis Ford Coppola's Rumble Fish and numerous David Lynch efforts. There's also an unashamedly hipster vibe that permeates throughout the footage, which is exacerbated by the fact that it comes from Vice Films. In fact Sheila Vand's The Girl is Dracula's daughter if she had come straight out of a nouvelle vague film and made a quick stop off at Urban Outfitters along the way too.
Ever since A Girl Walks Home Alone At Night premiered at Sundance it has gone on to appear at a number of other film festivals, all of which have only helped to enhance the film's already sterling reputation. Ana Lily Amirpour has been singled out for specific praise for her talents, and her skilled approach to crafting the supernatural drama has even resulted in her picking up a nomination for the Breakthrough Director award at the Gotham Independent Film Awards. It's been reported that Amirpour, who is making her feature film debut with A Girl Walks Home Alone At Night, combined numerous genres to create her unique cinematic outing, and it includes elements of film noir, western and the Iranian New Wave cinema. Details of a full release for A Girl Walks Home Alone At Night have yet to be confirmed, but residents in New York and Los Angeles will be privy to a limited theatrical release, which will start on November 21st.
Your Daily Blend of Entertainment News