Isabelle Furhman, The Little Girl From Orphan, Joins The Hunger Games As Clove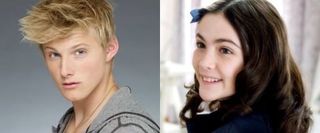 Woody Harrelson has been confirmed to play Haymitch-- hooray!-- and nearly all of the cast is in place, but there are still a few pieces left to fall into place before The Hunger Games can truly begin. We've seen endless casting announcements for tributes in the games who don't even have names, but now we've finally got news about two biggies-- Cato and Clove, the District 2 tributes who are some of the deadliest foes faced in the game by our heroes, Katniss (Jennifer Lawrence) and Peeta (Josh Hutcherson). According to THR Alexander Ludwig will play Cato, while Isabelle Fuhrman steps in as Clobe.
Both are experienced child actors-- Ludwig had lead roles in kid films The Seeker: The Dark is Rising and Race to Witch Mountain, though he's now a fairly grown-up 19; Fuhrman played the unforgettable lead character Esther in Orphan, which means she's done more than her fair share of mature acting. They'll have some of the biggest parts for tributes apart from Katniss, Peeta and Rue, which explains why they have far more acting experience than many of their co-stars.
As I feel like I've said countless times throughout this endless casting process, The Hunger Games starts shooting soon in time to meet its March 21, 2012 release date. There are two major adult roles left to be cast: President Snow, the head of the country of Panem and the central villain of the three books, and Cinna, Katniss's stylist and confidant. With Stanley Tucci and Harrelson both now set in their roles, I'm all the more curious about who will be put in either of these key parts.
Staff Writer at CinemaBlend
Your Daily Blend of Entertainment News
Thank you for signing up to CinemaBlend. You will receive a verification email shortly.
There was a problem. Please refresh the page and try again.