It's Captain America vs. The Winter Soldier In Explosive New Concept Art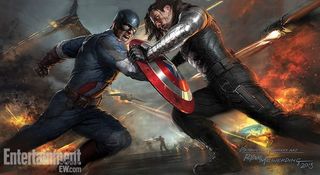 Comic-Con is right around the corner, and while attendees at the massive San Diego convention will have the chance to get the first look at a whole lot of footage and other goodies from upcoming projects, those of us forced to stay home can get in on the fun too. This bit of concept art that premiered at Entertainment Weekly is our best look yet at the main challenge that will be facing Captain America in Captain America: The Winter Soldier, and it's right there in the title.
That raven-haired baddie he's facing off against is The Winter Soldier, a.k.a Steve Rogers' old pal Bucky Barnes, who we saw plunging to his presumed death in Captain America: The First Avenger. As the Winter Soldier, Bucky is revived and a villain, complete with a bionic arm that, as you can see, has the power to do damage to Cap's vibranium shield. As EW points out, this is fairly similar to some concept that debuted earlier this year, showing off the Winter Soldier's bionic arm and Cap's shield, but with Captain America in his street clothes instead of the iconic red, white and blue. Compare it to the new one:
What's great about this new art, though, is all the background details, from Anthony Mackie's Falcon flying over Cap's right shoulder to the massive explosions happening behind the Winter Soldier. This is the middle of a giant battle-- the last one in the film, we'd guess-- and Steve Rogers is giving all his attention to his former best friend, now his enemy. In every Marvel movie we eventually see our hero facing off against his primary foe, from Tony Stark giving it to Aldrich Killian at the end of Iron Man 3 to Thor and Loki's epic showdown in Thor. What will set the battle in Winter Soldier apart? We're guessing there will be some footage shown off in Hall H next week to tell us that.
Captain America: The Winter Soldier is far from the only thing we're expecting from Marvel at Comic-Con next week, though it and Thor: The Dark World are the only items officially on the agenda. Could we finally get some details on the long-rumored Doctor Strange movie? Could Edgar Wright once again show up to stoke the flames of hope for the Ant-Man movie? We're almost definitely getting a look at Guardians of the Galaxy, which is currently in production. Give us your other guesses about Marvel's Comic-Con plans in the comments, and to keep track of all the Comic-Con action, click here. You can also check out the newly released teaser poster for The Winter Soldier, which seems to show Cap's shield with some damage from that bionic arm.
Staff Writer at CinemaBlend
Your Daily Blend of Entertainment News
Thank you for signing up to CinemaBlend. You will receive a verification email shortly.
There was a problem. Please refresh the page and try again.