It Follows Has Some Exciting Ideas For A Sequel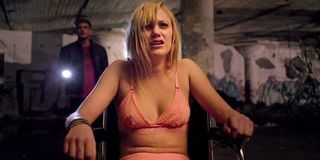 Any low-budget horror film that amasses an impressive box office return off the back of sensational reviews instantly verges into sequel territory. So it's no surprise that a follow-up to It Follows is on the cards, and it turns out that impressive ideas have already been formed for the next installment.
Tom Quinn, the co-president of Radius-TWC, the production company that distributed It Follows in conjunction with Dimension Films, confirmed to Entertainment Weekly that there have been early talks about where a sequel could head. "I don't want to give away too much, but we've thought about it," Quinn teased, before he then suggested that a possible future for the franchise could be to "Flip the title." In fact, Quinn even added, "There's so much you could do."
But what does Quinn mean by flipping the title? Would the follow up be called Follow It? If that's the case, it might involve those who have been given the curse trying to trace it back to its origins - something they'd have to accomplish while staying just out of the reach of the haunting entity slowly chasing them - which would actually make for a rather scintillating sequel, as it would help to increase the scope of the project while also adding to the mythology.
It Follows has been a resolute hit ever since it took the Cannes Film Festival by storm in 2014. Starring Maika Monroe, It Follows revolves around Jay, who after having sex with a boy finds herself haunted by an entity that can only be seen by her and others with the curse. This being can take on the appearance of any person, and it will follow Jay at walking pace. But if it catches her it will then kill her.
After wowing critics and audiences at Cannes, It Follows was picked up by RADiUS-TWC, and at the beginning of March it was given a limited release across the country. But it has since expanded and become a bit of a hit. Not only has the $2 million budget movie already recuperated $11.3 million at the box office, but it's also currently got a 95% approval rating on Rotten Tomatoes too.
Of course, the discussion of a sequel will instantly be met by criticism by naysayers - and they have every reason to be apprehensive that a follow-up won't match the quality of the original, since the expansion of The Blair Witch Project and Saw franchises have proven that's usually the case. But if they can keep writer and director David Robert Mitchell involved, then there's every chance that It Follows' follow-up could eclipse its predecessor. The problem is, Mitchell is already reaping the rewards of his work's success, and he's teased that he has a plethora of other projects he'd like to tinker with before even considering the sequel.
When you consider how impatient Hollywood is when they have a success on their hands, there's a good possibility that a new It Follows movie will be ordered sooner rather than latter, regardless of whether the people that brought it the big screen originally are involved.
Your Daily Blend of Entertainment News
Your Daily Blend of Entertainment News
Thank you for signing up to CinemaBlend. You will receive a verification email shortly.
There was a problem. Please refresh the page and try again.