It's Time To Light The Lights: 5 Reasons The Muppets Would Make Perfect Oscar Hosts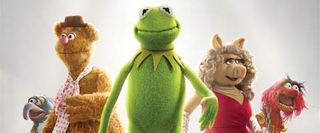 With Eddie Murphy officially announcing that he will no longer be the host of this year's Oscars, pundits have been speculating about who the Academy of Motion Picture Arts And Sciences will get to replace him. People have been tossing around names like Neil Patrick Harris, Jimmy Fallon, and even Ricky Gervais have been floating around, but there's one idea that's catching a lot of attention. A Twitter Feed and Facebook Page have popped up suggesting that the Muppets would be the perfect hosts for the 84th Academy Awards. And I couldn't agree more.
Are you unconvinced that Kermit and his friends would be the perfect selection for next year's Oscars? Below I've outlined five points explaining why they really are. Check it out!
They're Perfect For All Demographics
Every year the Academy Awards become more and more desperate to try and get young people to tune in. They've tried to do this by expanding the Best Picture category to allow summer blockbusters a fighting chance at getting nominated and they've tried to do it by having younger hosts take the reins of the ceremony. Hiring the Muppets to host the show, however, would easily draw in the attention of younger crowds. As I'll get into later, the Muppets are cherished by absolutely everybody, and that includes people of all ages. There's a brilliant nostalgia factor at work for adults who are reminded of the show from the 70s and, as Sesame Street proves on a daily basis, young kids love anything that's soft and fuzzy. As for the middle ground, the Muppets have the advantage of actually being funny, which will draw in the teenage crowd as well. From a demographics standpoint, it's a slam dunk.
They're Universally Beloved
In the upcoming The Muppets Chris Cooper plays an evil oil baron named Tex Richman who hates the Jim Henson creations and seeks to destroy their studio so that he can get to the oil underneath. There's only one problem with this idea: there isn't a person on this planet that actually hates the Muppets. They are a universal source of joy that even the most miserable, awful people can enjoy watching. So what better way to take advantage of that fact than by making them the host of the Oscars? There may be people that think it may not be a good idea for logistical reasons, but it won't be because they don't want to see any more of the Muppets.
They Would Allow For More Variety
Since 1988 the Academy Awards have never had more than two hosts, but it wasn't always that way. In Oscar history there are many years where the ceremony was held by as many as five different entertainers. Hiring the Muppets for this year's show would be an awesome opportunity to return to that format. While one has to imagine that Kermit would be the one at center stage, there are hundreds if not thousands of Muppets that can be cycled in to change up the vibe and keep things fresh. Each set of presenters can be introduced by a different pair of Muppets, from Kermit and Miss Piggy to Gonzo and Camilla. You can even have the requisite "guest stars" if so inclined. One has to remember that The Muppet Show was a variety program; who better to put on the Oscars?
The Muppets Are Actually Funny
I know it feels like forever ago, but allow me to refresh your collective memories: the James Franco/Anne Hathaway-hosted Oscar ceremony was one of the worst – if not the - worst one in the broadcast's history. There wasn't a single entertaining moment during the entire goddamn show. That would be guaranteed not to happen if the Muppets were to host the show, as just looking at the characters makes you want to giggle. Throw in a few stunts from The Great Gonzo, a couple "Wocka Wockas" from Fozzie and a drum solo from Animal and you have the audience howling in their seats. There's also another brilliant opportunity that the Muppets bring to the table: they can take us behind the scenes and show us the chaos that goes on behind the scenes of the Academy Awards.
It Would Be Timely
Two years ago the Oscars were hosted by Steve Martin and Alec Baldwin, who, funny enough, had just starred together in the Nancy Meyers comedy It's Complicated. Last year, both James Franco (127 Hours) and Anne Hathaway (Love and Other Drugs) starred in movies that had just been released during Oscar season. Prior to today, Eddie Murphy was the choice for the 84th Academy Awards, and his face is all over posters for Tower Heist, which was released just last week. If the Academy is still looking for relevance, why not go with The Muppets? Their first movie in over a decade is coming out this Thanksgiving and there's a very good chance that they will be a major topic of discussion for the weeks that follow. So why not take advantage? Make everyone happy and have the Muppets host the Oscars.
Click HERE to make your voice heard! Tell the Academy that you want The Muppets to host the Oscars!
NJ native who calls LA home; lives in a Dreamatorium. A decade-plus CinemaBlend veteran; endlessly enthusiastic about the career he's dreamt of since seventh grade.
Your Daily Blend of Entertainment News
Thank you for signing up to CinemaBlend. You will receive a verification email shortly.
There was a problem. Please refresh the page and try again.