It Took Steven Spielberg's Lincoln To Outlaw Slavery In Mississippi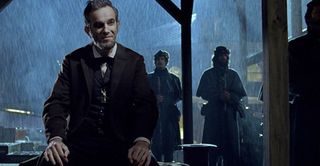 Every now and then you hear about crazy state laws that are somehow still on the books, like the fact that in Connecticut a pickle legally must bounce before being considered a pickle, or that in South Carolina a person must be 18 years old to play pinball. But did you know that in one state, slavery was still technically not illegal-- and it took a movie, of all things, to change that?
There are plenty of reasons to praise Steven Spielberg's Lincoln, but I never would have guessed that Lincoln the movie, not Lincoln the man, could be ultimately responsible for outlawing slavery. As it turns out, the state of Mississippi never officially ratified the 13th Amendment, even though it voted to do so in 1995. As the Jackson Clarion Ledger reports, University of Mississippi associate professor Ranjan Batra looked into the matter after seeing Lincoln and learned it was basically a clerical error that kept the ratification from going through -- the state was required to officially notify the US Archivist of the vote, but for unknown reasons never did so.
Batra brought in fellow University employee Ken Sullivan to help with the hunt, and after being moved to tears by his own screening of Lincoln, Sullivan vowed to make sure Missisippi's ratification became official, and contacted Mississippi's Secretary of State Delbert Hosemann and asked him to file the necessary paperwork. On February 7, it actually happened-- Charles A. Barth, director of the Federal Register, wrote back that to Hosemann that "With this action, the State of Mississippi has ratified the 13th Amendment to the Constitution of the United States."
Somewhere, Abraham Lincoln is proud. And you'd better believe Steven Spielberg is.
Your Daily Blend of Entertainment News
Staff Writer at CinemaBlend