J.J. Abrams Teases Much Bigger Plans For The Cloverfield Universe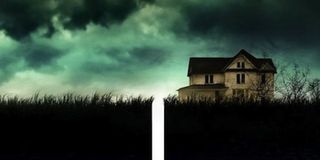 There's something weird going on at 10 Cloverfield Lane; that much has become patently obvious as the upcoming thriller's expert marketing campaign has chugged along. A follow-up to 2008's Cloverfield, 10 Cloverfeld Lane seems to share similarities with its predecessor in name and tone only, with the monster changing forms to something smaller and more sinister. However, according to J.J. Abrams, there could something more there connecting the movies that we have yet to see.
Sitting down with EW, J.J. Abrams explained the DNA between the original Cloverfield and 10 Cloverfield Lane, as well as the hope that he may one day get a chance to tell more stories that continue to connect this universe:
The people excited for 10 Cloverfield Lane seem to generally fall into two distinct categories. Some people seem to want it to at least bear some references to the original film and provide some degree of closure. On the other hand, some people generally seem enthusiastic about the whole anthology aspect of the project and see it as a way for the franchise to set itself apart from other horror series – which often rely on repeating the same beats over and over again. Whether or not this means introducing a new monster with each movie, or finding a way to tie these monsters together in a meaningful way remains to be seen.
Just because J.J. Abrams hopes to "connect" these films doesn't necessarily mean we will get any definitive narrative threads that will tie them together. The original EW article makes an apt observation that Cloverfield could go on to become the new Twilight Zone, with Abrams acting as the new Rod Serling (a man Abrams clearly has reverence for) to carry the audience through the proceedings. This is something that's been tried before in the horror genre (such as John Carpenter's Halloween franchise) but never seemed to truly find its footing until now.
Based on the latter portion of the quote, it seems that we can't take the possibility of an expansion on this story as a guarantee. J.J. Abrams has an idea as to where he would like to ultimately take this universe and how he would like to see it form, but at the end of the day 10 Cloverfield Lane needs to prove itself as a financial success before he can begin to make those types of decisions.
Only time will tell if 10 Cloverfield Lane performs well enough to see this particular universe expanded in future movies. J.J. Abrams' latest monster movie stars John Goodman, as well as Mary Elizabeth Winstead, and will hit theaters on March 11.
Originally from Connecticut, Conner grew up in San Diego and graduated from Chapman University in 2014. He now lives in Los Angeles working in and around the entertainment industry and can mostly be found binging horror movies and chugging coffee.
Your Daily Blend of Entertainment News
Thank you for signing up to CinemaBlend. You will receive a verification email shortly.
There was a problem. Please refresh the page and try again.