John Goodman To Star In JJ Abrams-Produced Thriller Valencia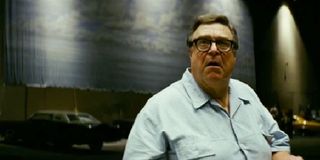 Sooner or later, the industry is going to realize that it will be saved not by an onslaught of blockbusters, but by spending more wisely. That seems to be the impetus behind Paramount Insurge, which seems dedicated to putting together movies with budgets of $5 million or less. And one of those projects looks to be a teamup with JJ Abrams' Bad Robot, a suspense thriller called Valencia, which has now bagged a major, but affordable, star.
Variety announced that John Goodman will play the lead in Valencia for neophyte director Dan Trachtenberg. The suspense thriller follows a young girl (not Goodman) who finds herself in an underground cellar after a car accident and told by a mysterious caretaker (Goodman!) that a nuclear attack has ravaged the ground above. It's unclear what happens next, though it's very obviously a two-person struggle in a tight spot, the sort of set-up that doesn't require a whole lot of budgetary maneuvering. Maybe they just play board games. Maybe a romance develops. Maybe they host a dance party and no one comes. Is there no end to the possibilities?
Goodman's got a solid relationship going on with Paramount, having popped up in last year's Flight, while offering up a voice to this year's Transformers: Age Of Extinction and co-starring in next year's The Gambler . Aside from that, duh, he's a national treasure. The comedy-drama vet has shined in Coen brothers films, he's been stellar providing voicework for a host of toons like Monsters Inc and he's worked with directors like Scorsese, Spielberg, Dante, Solondz, the Wachowskis and recently, Ben Affleck and George Clooney. He rarely gets a lead role, so you hope this film isn't some cheapo genre production and it actually utilizes his off-kilter charisma and brusque manner.
Trachtenberg is the x-factor here. The rookie filmmaker is known for his series of shorts like the one above for the video game Portal. The strength of his work apparently got him the gig directing an adaptation of Y The Last Man a little while back, although the lack of movement on that property suggests Valencia has taken precedence. He'll be working from a script by Dan Casey, who has re-written a previous, highly-touted draft by Josh Campbell and Matt Stuecken. Valencia is expected to start shooting soon for a 2015 release.
Your Daily Blend of Entertainment News
Thank you for signing up to CinemaBlend. You will receive a verification email shortly.
There was a problem. Please refresh the page and try again.