Jack Reacher 2 May Have Found A New Female Lead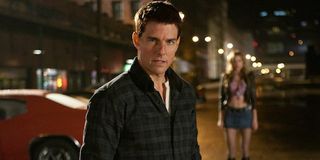 Even though Mission Impossible: Rogue Nation is still currently wowing moviegoers across the world, it looks as though Tom Cruise isn't going to return as Ethan Hunt immediately. He'll reprise that role before too long, but first Cruise wants to make a sequel to another action film that he made with director Christopher McQuarrie: Jack Reacher. The follow-up looks like it has made a huge leap forward, as it has reportedly acquired its female lead in the shape of Cobie Smulders.
The Wrap reports that The Avengers, Avengers: Age Of Ultron, and How I Met Your Mother actress is now in early discussions to star in Jack Reacher 2, which is scheduled to start filming this November. But rather than holding these talks with the writer and director of the original, Christopher McQuarrie, she chatted with Ed Zwick, who has replaced the Academy Award-winning writer and is now overseeing the film.
Like with his work in the Mission: Impossible, Tom Cruise has once again decided to mix up the female leads with the franchise, and if Smulders does agree to feature then she will replace Gone Girl's Rosamund Pike as the primary female character.
It would be quite surprising if Smulders rejected the opportunity to star in Jack Reacher 2. Over the last few years the Canadian actress has forged quite the impressive cinematic resume. After starring in How I Met Your Mother as Robin Scherbatsky for the shows entire nine-season run, Smulders came to the mainstream public consciousness with her debut as Maria Hill in 2012's The Avengers.
She's since followed this up with performances in Safe Haven, Delivery Man, The Lego Movie, The Came Together, Captain America: The Winter Soldier, Unexpected, and Avengers: Age Of Ultron, each of which she has ever so slightly elevated with her presence. Appearing in Jack Reacher 2 would be a tremendous boost for Smulders, and, if it proved to be successful, it could propel her up the Hollywood echelon. Plus, starring opposite Tom Cruise is surely too good a chance to turn down.
Over the last few years, the 53-year-old Cruise has shown that he's constantly striving to take the action genre to new highs, something that he achieved with glee with Mission Impossible: Rogue Nation. Mission Impossible: Rogue Nation is still in cinemas, and if you've not seen Jack Reacher then you should do yourself a favour and watch it. Then, just for fun, you should follow it up with Edge of Tomorrow. Because it's ace. Jack Reacher
Your Daily Blend of Entertainment News
Thank you for signing up to CinemaBlend. You will receive a verification email shortly.
There was a problem. Please refresh the page and try again.