Jack Reynor To Play Addict-Turned-MVP Josh Hamilton In Baseball Biopic From Casey Affleck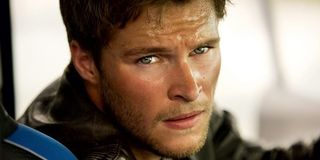 Jack Reynor is likely Hollywood's next biggest star. The young actor can be seen in this weekend's Transformers: Age Of Extinction , and the offers are about to spill over. Credit to Casey Affleck for spotting talent when he sees it, because it looks like Reynor is Affleck's new leading man for a biopic about baseball player Josh Hamilton.
Deadline is reporting that Jack Reynor will play Josh Hamilton in a movie written and directed by Casey Affleck. Based upon the memoir Beyond Belief: Finding The Strength To Come Back, which Hamilton co-wrote, this film would tell the story of one man's fight against drug addiction to return to the top of the sport. The guess is, this will focus primarily on Hamilton's early days, since Reynor is only 22, and Hamilton was 27 when he returned from the brink.
Josh Hamilton was the first overall pick of the 1999 Major League Baseball draft. Unfortunately, his addiction to crack cocaine sidelined him, forcing him out of baseball, where he eventually found himself cleaning toilets for a major league team. Slowly, he built up his energy and talent, and ended up with the Texas Rangers organization in 2008. He ended up surprising fans and players with his power, enough to lead all outfielders in voting for the All-Star Game, and ended the year with a spectacular 32 home runs and 130 RBI. Two years later, he completed his journey from junkie to American League MVP.
It will be interesting to see what angle they approach Hamilton's story. The slugger credits his Christian faith as the motivating factor in his life, and is one of the more outspoken Christian athletes, leading one to wonder if this is going to be a religious movie. At the same time, the narrative on and off the field don't exactly match: Hamilton had a few public drinking relapses when he was with Texas that tainted his religious outlook in the eyes of some fans. Hamilton became a star in Texas, but last year he accepted a mammoth five year $125 million contract from the Los Angeles Angels Of Anaheim. Will the story end with Hamilton swimming in cash, Scrooge McDuck-style?
Reynor's lucking into a meaty role no matter what avenue they take in telling Hamilton's story. And it's certain he can handle it: the young actor broke out in the little-seen indie What Richard Did , giving a nuanced, mature performance so moving that even Michael Bay couldn't deny it, immediately casting him in Transformers: Age Of Extinction. And while he didn't have much to do, he's got a good comedic presence in Vince Vaughn's The Delivery Man from last year. Following Transformers, Reynor will be seen next giving Shakespeare a bold new angle in Macbeth opposite Michael Fassbender, as Relativity puts the pieces together on this currently-untitled film.
Your Daily Blend of Entertainment News