Jackass Mastermind Jeff Tremaine Moving On To Revenge Of The Jocks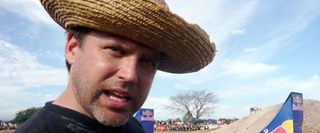 After spending nearly a decade directing the three Jackass films, Jeff Tremaine will finally be making his narrative directing debut, on a movie with ta title that sounds like it could be a Jackass stunt itself. Revenge of the Jocks, according to THR, will turn the old Revenge of the Nerds story on its head, telling the story of three former high school jocks forced to adapt to a world run by nerds. It's basically the world every nerd imagined for themselves to make high school tolerable, just with sympathy for the poor dumb jocks who peaked when they were 18.
Etan Cohen, the writer behind Tropic Thunder and Idiocracy among other comedies, wrote the script alongside his brother Rami; Jeff Baena, who wrote I Heart Huckabees for David O. Russell, has been brought in to do a rewrite. Warner Bros. is producing the project, and it seems to have nothing to do with the Revenge of the Nerds remake that nearly went into production five years ago.
There's no doubt that Tremaine is funny, and after a decade of Jackass has an excellent idea of what young male audiences want to see. It's hard to imagine a project more ideal for him to start with, but the question remains whether he can direct a straightforward movie at all. I'm inclined to give him the benefit of the doubt given how many Jackass stunts I've laughed at over the years-- at the very least, the 3D opening sequence of Jackass 3D is definitely its own kind of cinematic art.
Your Daily Blend of Entertainment News
Staff Writer at CinemaBlend