Jake Gyllenhaal Gaunt And Desperate In Nightcrawler Teaser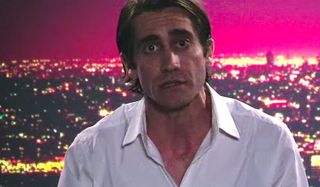 It can be hard out there in the job market nowadays. Maybe you need something to help you stand out to potential employers. Why not a video résumé? That's what Louis Bloom (Jake Gyllenhaal), the protagonist of the upcoming indie drama Nightcrawler is trying in the odd bit of viral marketing above.
Tipped by The Playlist, Nightcrawler's trailer is angling to be a sly bit of advertisement. The name of the movie it's from is never presented, not in the title, Youtube user name or the video itself. The title is "Hard Worker Seeking Employment." The user name is that of the character, Louis Bloom. And the caption below the video reads only "My video resume." So, did it work?
Nightcrawler marks the directorial debut of Dan Gilroy, co-writer of Tarsem Singh's The Fall and Tony Gilroy's The Bourne Legacy. The screenplay is Dan Gilroy's own, an all-original work. While the title might make you think of a certain X-Men member, Nightcrawler actually follows a desperate man into the underground and nocturnal world of L.A. freelance crime journalism. Jake Gyllenhaal stars, while Bill Paxton, Rene Russo and Riz Ahmed co-star. If you want to win the lottery, you have to buy a ticket.
The first we heard of Nightcrawler was in the spring of 2014, when Jake Gyllenhaal and Rene Russo initially signed on to the film. That summer, insiders were surprised to learn that Gyllenhaal's commitment to Nightcrawler would force him out of co-starring in the tent pole Disney movie musical Into The Woods, in which he was slated to play Rapunzel's prince. Should he have performed in Into The Woods, we'd have seen him sing this song opposite Chris Pine:
Both films were set to shoot in the fall of 2013. Even if the Rob Marshall-directed musical could have worked around the five-week shoot of Nightcrawler, Into The Woods wouldn't be getting the Jake Gyllenhaal they wanted. As you can see in the video up top, the actor lost twenty pounds for Nightcrawler, enough weight that it drastically changes his niche from handsome dreamboat to wan and edgy leading man.
Nightcrawler is set to hit theaters this fall. It'll open in the U.S. on October 17th, and in the U.K. in November 14th. The question in the meantime is if Nightcrawler will sneak in a world premiere at one of the major film festivals coming up, like the Toronto International Film Festival or the New York Film Festival, which recently secured such hot debuts as Gone Girl and Inherent Vice.
This poll is no longer available.
Your Daily Blend of Entertainment News
Staff writer at CinemaBlend.