James Franco Playing A Meth Dealer In New Jason Statham Movie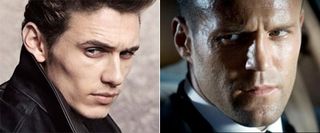 I know we've said over and over again that it's not really possible for James Franco to surprise us anymore-- after all, he's the guy who sleep-walked his way through hosting the Oscars the year he was nominated-- but seriously, he's managed to pull yet another wild left turn. He's now set to join the film Homefront, in which he'll play an evil meth magnate named Gator who has taken over a quiet town. As if that's not enough, the movie will also star Jason Statham. And it's written by Sylvester Stallone.
No, I have no idea how Franco wound up teaming up with the guys from The Expendables, and Variety, in reporting the news, doesn't give us any hints. It's also unclear why Stallone has opted to write the screenplay but not take a role for himself or direct, as he has for the vast majority of the films he's written. Gary Fleder, who made thrillers like Kiss The Girls, Runaway Jury and Don't Say A Word, will take over the directing duties, with Stallone producing alongside Kevin King Templeton, Rene Besson, Avi Lerner and Trevor Short. Lerner, who's actually the executive producer, gave the effusive quote to Variety:
So, Statham and Stallone working on a movie about an ex-DEA agent fighting off an evil drug lord: that all sounds par for the course. But, really, how do we fit Franco into this formula? He's actually proven that he's pretty good at playing a slimeball, in the uncredited role as the drug dealer at the beginning of Green Hornet and (we're guessing) in the upcoming Lovelace, in which he plays Hugh Hefner. I'm really curious about the night out at the club these three had before Franco signed on-- it probably will be more interesting than the movie itself, if we're being honest. But the idea of Statham kicking Franco's ass is kind of irresistible. Are you guys already as fascinated by this as I am?
Your Daily Blend of Entertainment News
Staff Writer at CinemaBlend
Your Daily Blend of Entertainment News
Thank you for signing up to CinemaBlend. You will receive a verification email shortly.
There was a problem. Please refresh the page and try again.