James Gunn Inspired Dancing Baby Groot From Guardians, And This Video Proves It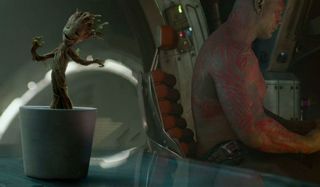 One of the most memorable scenes of the entire Guardians of the Galaxy film is the mid-credits scene of baby Groot sneakily dancing his little heart, aside Drax. It's adorable, hilarious, heart-warming, and silly, like combining all of the best kitten videos with goofy cute kid videos on the internet. And now we have proof of where the delightful little dude got his moves. Watch as James Gunn proves his own dance moves inspired the celebrated scene.
Shown in the video are James Gunn, Sean Gunn, and Michael Rooker as guests on Doug Benson's 'Doug Loves Movies' podcast, taped at the Upright Citizens Brigade Theatre in Hollywood earlier this week. James Gunn, director of Guardians of the Galaxy promptly gets up to show off his Groot moves when "I Want You Back" by Jackson 5 comes on. Michael Rooker, who played Youndu in the film soon followed. Then Sean Gunn, who played Kraglin as well as provided the motion capture work for Rocket, joined in. James Gunn and Sean Gunn are friends by blood, and along with Michael Rooker, the three are like the three musketeers. If you follow any of them on social media you can see how great of friends they are, so it was equally adorable to watch them flail their arms and shake together in hopes of recreating the favorite scene.
Because in all honesty, we've all been there. Re-watching the clip over and over again that any time we hear the Jackson 5 song we want to either get up and practice our Groot moves , or just following along with the simple-yet-effective head sway. So take a moment to re-watch the original scene, just for comparison purposes to the three stooges above.
If there's one thing you can gather from comparing the two videos, it's that James Gunn really does have the moves down pact. And that's because Groot is actually doing Gunn's patented moves. James Gunn was the motion capture model for the dancing Groot end sequence. In an interview with Yahoo! he said:
So we owe all of our thanks to James Gunn. Because not only was Guardians of the Galaxy a huge success, but dancing Groot was one of the most pure, happy and fun movie moments of the year.
Your Daily Blend of Entertainment News
Thank you for signing up to CinemaBlend. You will receive a verification email shortly.
There was a problem. Please refresh the page and try again.