James Wan's Idea For A MacGyver Movie Sounds Great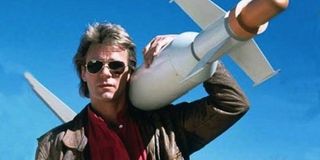 People have been chattering about making a MacGyver movie for years now, even recently kicking around the idea of a female-fronted TV series. In this remake heavy culture, it's actually surprising it hasn't happened already — though MacGruber was pretty damn close. At one point it was actually Saw director James Wan who was attached to a reboot, and it's actually too bad he didn't get to execute his vision, because his idea for the project actually sounds pretty great.
Most known for his horror films, Wan is about to take over your local cineplex with the high-octane Furious 7, and while talking to CraveOnline, he revealed the MacGyver that could have been. Asked about his idea, Wan explained,
A crafty spy adventure definitely sounds like a promising idea to us, and Wan later also compared his idea to the Will Smith tech thriller Enemy of the State - only if Will Smith's protagonist was as smart and cunning as MacGyver. The filmmaker explained that the plot of his movie would begin with some kind of incredible piece of technology the titular hero designed becomes weaponized – forcing him to take the blame. In order to clear his name and avert disaster, he has to go on the run and get himself out of all kinds of tough scrapes, hopefully with rubber bands, a stick of chewing gum, and a Swiss Army Knife.
The original series, which ran from 1985 through 1992 on ABC, revolved around Angus MacGyver (which is an amazing name), played by Richard Dean Anderson (Stargate SG-1). He's a secret agent with an aversion to guns that stems from a traumatic childhood incident; though he is willing to use one in a nontraditional sense, like as a wrench. Instead of blasting his way out of sticky situations, he prefers to use his brain to come up with improvised solutions.
Wan moved on from MacGyver in order to direct Furious 7, which we can only hope is half as awesome as the trailers make it out to be. He's still interested in tackling the subject matter, but now that New Line no longer has the rights, it looks like it's moving in a different direction.
As noted earlier, producer Lee Zlotoff announced a competition last month called The Next MacGyver, which is searching for a new female lead, and also crowdsourcing an idea that is specifically aimed to inspire young women to enter the engineering field. It's actually a pretty cool concept. Not only are they trying to produce a kickass action TV show, they're teaming up with The National Academy of Engineering, The USC Veterbi School of Engineering, and The MacGyver Foundation, to encourage a new generation of engineers to tackle important global issues that impact everyone.
Your Daily Blend of Entertainment News