Jamie Blackley Will Lead 300 Sequel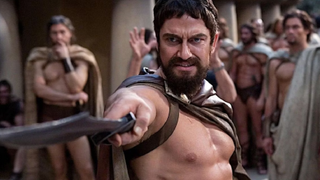 (Image credit: Warner Bros. )
When Zack Snyder's sepia toned ode to war and male-bonding 300 hit theaters in 2006 it managed the rare feat of earning its budget back--and then some--on its opening weekend. From there, it went on to earn more than $450 million worldwide, so Warner Bros. has been understandably eager to revisit the spectacle-packed action flick, looking to spawn a franchise. Now, after much struggling in development, the 300 sequel 300: Battle of Artemisia finally seems to be on track with casting deals being announced.
Deadline reports that Jamie Blackley has signed on to star opposite Animal Kingdom's Sullivan Stapleton. While Stapleton is set to play the menacing Xerxes, who was memorably and strangely portrayed by Rodrigo Santoro in the original, Blackley will take on the role of Calisto, a young man who aspires to be a great and heroic warrior like his father before him. Within 300: Battle of Artemisia, Calisto will shoulder the responsibility of leading a small group of soldiers into battle—presumably against Xerxes' freak show forces.
To date, Blackley is best-known for co-starring opposite Keira Knightley and Colin Farrell in the crime drama London Boulevard, which was panned by critics and garnered little notice in the U.S. Yet Blackley's star is on the rise, as three of his films are projected to hit this year: the May-December romance While We Were Here, the terribly titled thriller uwantme2killhim?, and the big budget fantasy adventure Snow White and the Huntsman. While these appearances will likely draw Blackley some notice, it's possible that 300: Battle of Artemisia could very well launch the British actor Stateside, much as its precursor did Gerard Butler.
While Zack Snyder is not returning to direct 300: Battle of Artemisia, he has penned the screenplay alongside his 300 co-writer Kurt Johnstad. Instead, Noam Murro, who helmed the odd dramedy Smart People will direct. It's an unexpected choice, but with Snyder also on board as producer, it's likely the sequel will bear enough resemblance to the original to pass muster with fans.
Your Daily Blend of Entertainment News
Staff writer at CinemaBlend.