Jamie Foxx Is Remaking This Movie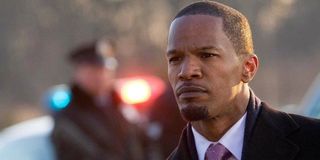 Jamie Foxx has signed up to star in a remake of Sleepless Night alongside Michelle Monaghan. Haven't heard of Sleepless Night? Well maybe you might know it better as Nuit Blanche, the 2011 French-Belgian-Luxembourgian action-thriller.
It's all coming together quite quickly for Sleepless Night. Not only have Jamie Foxx and Michelle Monaghan signed on the dotted line to star in the flick but Baran Bo Odar is officially going to direct too. According to Coming Soon.net, all of this information was announced earlier today by Tom Ortenberg, the CEO of Open Road Films. But what will Sleepless Night entail? Well, why ask me when you can just take a look at the trailer for Nuit Blanche below.
Fingers crossed the mundane and turgid American voiceover isn't an indication of the treatment that Sleepless Night is about to receive. But, if the American Sleepless Night can recreate the high-octane energy and intrigue of the original then it should be pretty sweet. Especially since it was been described as Die Hard + 24 + Taken. I mean, who wouldn't want to see the answer to that equation?
Jamie Foxx will play the lead role of Vincent Downs, while the film itself will be transported from Europe to the glitzy locale of Las Vegas. Foxx's protagonist is a rebellious Las Vegas cop who has to go toe-to-toe with gangsters after they kidnap his son. Why would these gangsters do such a devious thing? Well it is retribution for stealing of a shipment of their cocaine. However, there is only one slight little problem. Vincent Downs lost the package of cocaine. Now, he has to try and figure out a new plan, all while trying not to get caught by Internal Affairs and making the gangsters think that he still has the cocaine. Sounds simple, no? The always adorable and watchable Michelle Monaghan will play Jennifer Bryant, an Internal Affairs agent who finds herself following Downs' peculiar antics.
All in all, Sleepless Night sounds pretty damn inviting. That's mostly because it is inspired by one of the most popular European action films of the last few years. The 2011 original currently has a 96% rating on Rotten Tomatoes and gained entry into the likes of the 2011 Toronto International Film Festival and 2012 Tribeca Film Festival. Plus Sleepless Night's choice of lead actors is scintillating. Jamie Foxx has proven with Django Unchained that when he is given a sturdy and complex action character to portray he excels. Meanwhile Michelle Monaghan lights up the screen whenever she is on it, and is a worthy addition to any cinematic offering. Plus she is also cute as a button. Currently, Sleepless Night already sounds like an intriguing must-see effort. Fingers crossed it will be with us by either the end of the year or early 2016.
Your Daily Blend of Entertainment News
Your Daily Blend of Entertainment News
Thank you for signing up to CinemaBlend. You will receive a verification email shortly.
There was a problem. Please refresh the page and try again.