Jamie Foxx Thinks He's Batman In The Latest Annie Trailer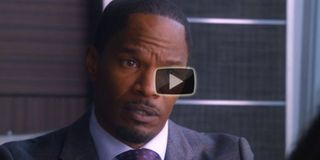 Will Gluck's Annie seems like it's been gestating forever, but finally we have a release date and promotional material. And just in time for the summer movie season, here's a brand new trailer to tide you over before Annie strikes on December 19th, when it's likely to be the number one option for Christmas-shopping families who need to spend two hours in a darkened room to avoid speaking to each other.
The trailer, shared by Yahoo, emphasizes that this is something of a two-hander, focusing equally on Annie (Quvenzhane Wallis) and Benjamin Stacks (Jamie Foxx), who in this film is standing in for Daddy Warbucks from the original source material. Annie's not as much of a singer as she was in the original movie, but Stacks, now running for mayor, is certainly more aspirational. In fact, he's got a bit of a Batman obsession, which doesn't make him too different from another New York millionaire in a recent remake. Or did you miss Arthur starring Russell Brand? (You probably did).
There's also a bit more of Rose Byrne, here playing Stacks' assistant and possible love interest. She gets a good amount more screentime than Cameron Diaz, who is treated like a minor character and is brushed away in a sort-of gross prostitute joke that probably shouldn't make it in a family movie. The hope is that it's one of those trailer-only moments that doesn't actually surface in the film. She did just lead The Other Woman to a $165 million global gross, right? Or was that some other reality? Surely Diaz is more bankable than Foxx, coming off the disappointing performance of The Amazing Spider-Man 2. Or does that one count as a mulligan since you can barely tell that's him in the movie?
The hope for Annie is particularly strong, given how absolutely adorable Oscar nominee Quvenzhane Wallis looks in this lead role and how much she deserve the lion's share of this film's promotional spotlight. At one point, she sees herself on the Jumbotron and remarks, "Woah, my hair is GIGANTIC," and it's the sort of moment that solidifies her as the only Annie you'd ever really want. Surely the cynic in Jamie Foxx's Stacks will die away once he gets to know her better: in the trailer, his adoption of Annie is a purely political move, comparing her to a "turtle." You'll learn, Stacks. You'll learn. To the beats of executive producer Jay Z, no less.
Your Daily Blend of Entertainment News
Thank you for signing up to CinemaBlend. You will receive a verification email shortly.
There was a problem. Please refresh the page and try again.