Jane Fonda Swears She Was Never A Hippie, But She Plays One In Peace Love & Misunderstanding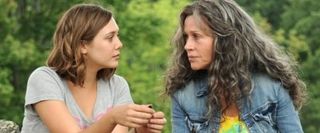 Jane Fonda is proud of her mugshot. Of course, it was taken in 1970, when she was 33 and a vocal anti-war activist, but she's proud of it all the same at 74, featuring it prominently on a website that includes health and fitness tips, photos from her various film sets, and a lengthy post about her conversion to Christianity. To say Jane Fonda contains multitudes barely even begins to cover it-- she's lived more lives than almost anyone, famous or not, and as she enters what she calls the "third act" of her life, she seems convinced that things are only going to get better from here.
Really, it's hard to argue with her-- she's starring in films like Peace, Love & Misunderstanding (which opens this Friday) and the upcoming Aaron Sorkin HBO Series The Newsroom, continuing her charity work, writing books about sexuality for adolescents in Georgia, and last fall even gave a TED Talk about how other people can achieve the kind of awesome third act that she has.
Offered the chance to join Fonda and her Peace, Love and Misunderstanding co-star Catherine Keener for a roundtable conversation over breakfast earlier this week, I admit, I really just wanted to see Jane Fonda in person. And naturally, she didn't disappoint, commanding the room with the kind of presence you'd expect from Hollywood royalty, but also opening up about how her marriage to Ted Turner affected her acting, how she believes in a divine feminine spirit, which item she recently crossed off her bucket list, and the witch she phoned up to help with a key moon ritual scene in Peace, Love and Misunderstanding.
In the film Fonda plays an aging hippie living on a farm in Woodstock, New York who takes in her daughter (Keener) and two grandchildren (Elizabeth Olsen, Nat Wolff) for a summer. Though Fonda insists she's not playing herself, and she never was a hippie, she's clearly riffing on her own association with 60s counterculture, and told stories during the roundtable about meeting up with Levon Helm at his studio near Woodstock, and as you'll see in the interview, explained a bit about how political activism has transformed since her anti-Vietnam War days. Check out the conversation with her and Keener below, and see them both in Peace, Love & Misunderstanding this Friday.
How does this role and this movie fit into your third act?
It fits very well in the sense that I'm a grandmother, I've had daughter issues that are resolved, and as I get older, more and more I realize, is there anything more important in life than love and forgiveness? The reason I wanted to do the movie, aside from work with Bruce Beresford and Catherine Keener, was to make a movie about love and forgiveness, and a movie that made you feel good when you left.
Did you ever imagine yourself starring in a movie at 74?
Several years ago I didn't imagine I'd be alive at 74, much less starring in a movie. Everything is a surprise to me, including as I said during the TED talks, I'm happier than I've ever been.
Your role in the French film And If We All Live Together has parallels to this one, about portraying a woman's full life including sexuality and relationships and all that.
[Doing a film in French] was part of my bucket list. I was in the middle of writing a book called Prime Time, about aging and how important it is to countenance one's death, to prepare and not be afraid of it, and realize that if it wasn't for death life would have no meaning, and how much easier it is to live with the sense of wanting to get to the end of life without having any regrets. And then here's this character in this French movie who plans her death, nobody knows she's dying, and she wants a pink coffin and wants people to drink champagne at her funeral. It seemed to be talking about the same things i wanted to be talking about in my book.
You seem so much more comfortable in your skin in general now. Does it change the way you prepare for your roles? You seem much looser now than you were 30 years ago.
I am, I know. Isn't it wonderful? A chunk of it has to do with Ted Turner. You don't come out of 10 years with Ted Turner the same as you went in. I come from a long line of depressed people,and actually so does Ted, but Ted is this rambunctious, over-the-top person who can be very outrageous. But I learned how to laugh with him. I learned it was OK just to be out there. Everything became lighter.
Some of it has to do with Ted, and some if it has to do with just getting older. It's not just me-- doing research for my book I found out that over 50 most people don't get happier, they get better in their skin. There's this sense of "I've been there, I've done that, I survived." You tend not to make mountains out of molehills. It's very hard to be young, because you don't know what you need to know. What you're describing comes from very deep inside me. I hope that it continues in other things that I'm doing.
Do you think that roles for older women are getting better?
I think it's just beginning to get better in what could become a substantial way. It's a business, it's a market, and the marketers know that older women is the fastest growing demographic. The fact that The Best Exotic Marigold Hotel has done hugely well, Meryl Streep's movies do hugely well financially, and I think that matters. More and more television is making it possible for older women to be full, multi-dimensional people. I think it's going to be better.
Have you done a moon ritual like the one in the film? Do you believe in lunar power and all of that?
I believe as the early Christians did that the divine spirit is a feminine spirit, she was called Sophia. December 21, 2012, the Mayan calendar says the cosmic energy is going to tip, and I think it's going to tip to the feminine spirit, which is not anti-man, just that part of the energy that is more loving and forgiving and healing and so forth. I have never done a moon ritual in my life, although I think the moon is powerful, so I called a friend of mine who's a witch. She came up and stayed with me for a few days and she taught us the chant. So we did a real chant, there was a lot of witch energy. It's not something I would ever do, but I was really happy to experience it.
What's your take on the politics in the film?
I think people think that I"m playing me, with the anti-war stuff and the hippie and the pot. I never was a hippie. I had to go to [Keener]--she helped me understand. She told me what music to listen to, she brought me documentaries. I lived in France [in the 60s]! I wasn't even here. I didn't understand very much about Woodstock. She brought me this documentary that helped me totally understand. Whose water wouldn't break? But I'd never played a hippie before, I never wore tie-dye or anything like that. My anti-war work was never carrying a placard like that, more organizing stuff. It was fun to play something like that that I'd never done before.
Keener: Do you think the anti-war movement has changed?
Fonda: Totally, because of the internet, and no draft.
Keener: But the persona has changed?
Fonda: The Occupy movement is more like what people imagine it used to be, though it's not really. The fact that there's no draft, and there's internet and tweeting, it's changed everything.
Your Daily Blend of Entertainment News
Staff Writer at CinemaBlend
Your Daily Blend of Entertainment News
Thank you for signing up to CinemaBlend. You will receive a verification email shortly.
There was a problem. Please refresh the page and try again.