January Jones And Ed Harris To Front Sweetwater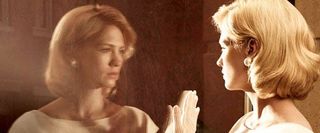 After nearly a year and a half wait, Mad Men has finally returned. Don and the boys are back on TV and back at the center of water cooler conversations in offices and on the web. Yet we've seen little of January Jones, who plays the ever-mopey Betty Francis. Jones, who played the chilly Emma Frost is last year's X-Men: First Class, was absent from the show's two-hour long season premiere, and has scored few appearances since then. Now with news that she's shifted Emmy categories—from lead to supporting actress—it seems likely Jones will be spending less time on the set of Mad Men, leaving her more time to tackle film roles. Lucky us.
Deadline reports Jones has just signed on to star opposite four-time Oscar nominee Ed Harris in the western Sweetwater. Set in 1886 in the thick of the New Mexico Territory, the drama centers on a young widow (Jones) who seeks revenge on the cruel sheep rancher who murdered her husband, no matter what it takes. Harris will play the local sheriff who decides help her avenge her fallen spouse.
The film will be the follow-up to writing/directing team Logan and Noah Miller's semi-autobiographical debut Touching Home, in which Harris starred as a deadbeat dad desperately struggling to reconnect to his grown sons. Though underseen, the film did draw critical praise, and clearly impressed Harris enough to want to work with the pair again. Harris, with his brooding expression and penetrating gaze, is a great fit for a western, but I have to admit, I worry about Jones.
I know she's won acclaim for her work on Mad Men, but she's left me cold. Blame the fact that Betty can be pretty annoying. Blame Jones' lifeless appearance on Saturday Night Live or her dead-eyed and dull take on ultimate ice queen Emma Frost. I just don't get her appeal. Yes, she's pretty, but set in the wild west, it's not like the Millers will be able to put her in slinky, barely-there clothes to justify her casting. Still, maybe they've seen something in her I haven't yet. As I'm intrigue by the premise and encouraged by Harris' involvement, I do hope so.
Sweetwater will begin production this July in New Mexico.
Staff writer at CinemaBlend.
Your Daily Blend of Entertainment News
Thank you for signing up to CinemaBlend. You will receive a verification email shortly.
There was a problem. Please refresh the page and try again.