Jean-Claude Van Damme's Kickboxer Wrapped Weeks Ago, So Why Hasn't The Crew Been Paid?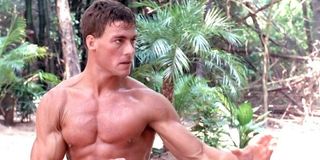 There's trouble a brewing over at the remake of Jean-Claude Van Damme's Kickboxer after it was revealed that around 150 crew members on the film haven't actually been paid. This is despite the fact that production on the martial arts remake actually wrapped a number of weeks ago.
According to Variety, the president of the Intl. Alliance of Theatrical Stage Employees' motion picture division, Mike Miller, has been left fuming due to the fact that Radar Pictures has not yet compensated workers who were employed on the upcoming Kickboxer remake. An attorney representing the studio has said that the owed money will be paid next week, but there's still a good deal of outrage over the situation amongst the crewmembers.
In an official statement, Miller revealed that he has actually been holding discussions with Radar Pictures since the middle of December - when the studios' funding fell through - and says that the IATSE wanted to take every precaution to make sure that those involved in the making of Kickboxer aren't left short-changed. Miller's empathic response asserted that the union takes "these breaches of contract very seriously" and added that he "will not rest until this issue is resolved."
It's a surprise that the Kickboxer reboot has become embroiled in such financial controversy. Not only is it a remake of one of the most beloved martial arts films of the late 1980s, but it boasts a rather sterling cast too. Jean-Claude Van Damme's return to the franchise as Master Durand should pull at the nostalgic heart-strings of franchise aficionados, while the fact that the project features Dave Bautista - fresh from his success as Drax the Destroyer in Guardians of the Galaxy - means that it has plenty of box office potential. Plus director John Stockwell, while far from prolific, has proven to be more the adept at overseeing low-budget action flicks in the past - such as the Gina Carano-starring In The Blood - while also making sure that budget restrictions don't hinder the movies from being high-octane entertainment. With so much working in the film's favor, you'd think there wouldn't be any big money problems - but that's apparently not the case.
My fingers crossed that this has just been a mere blip, and that those on the Kickboxer crew who have been financially hampered get their payment as soon as possible. Let's also hope that there is enough money left over to promote the film ahead of its release, which should be towards the end of 2015.
Your Daily Blend of Entertainment News
Thank you for signing up to CinemaBlend. You will receive a verification email shortly.
There was a problem. Please refresh the page and try again.