Jeff Bridges And Ryan Reynolds Fight The Dead In R.I.P.D. CinemaCon Footage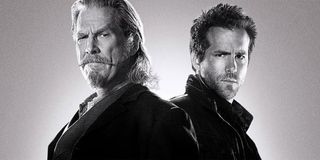 R.I.P.D., the new comic book movie from director Robert Schwentke, is no stranger to CinemaCon. Those who remember our coverage from last year's event may remember that Universal Pictures actually delivered the first footage from the film at CinemaCon 2012, giving us our first peek at what it looks like when cop Ryan Reynolds and cowboy Jeff Bridges team up to stop forces of evil as police officers of the dead. But with the film now only a few months away from release and the first trailer set to arrive online this week, Universal Pictures has once again brought the film back to Las Vegas, showing off a brand new sizzle reel.
While I won't be giving a shot-by-shot description of the footage, as it's harder to describe a series of clips than it is an extended sequence, I will say that the scenes did do a solid job of setting up the plot of the story. In the film Reynolds plays Nick Walker, a cop who is killed in the line of duty. But rather than going to heaven or hell, Nick is instead enlisted in the Rest in Peace Department, a.k.a R.I.P.D. Teaming up with a cowboy named Roy Pulsipher (Bridges), he is told that it is now his mission to stop and capture what are known as "deados" – bad souls that have escaped judgment and are trying to live among the living. Basically, think of it as being like Men in Black only with dead, monstrous souls instead of aliens.
One of the interesting things that the footage set up was the dynamic between Reynolds and Bridges. While we have gotten to know the former for his more fun, zany characters, in this movie he seems to be playing more of the straight man against Bridges. A scene that perfectly encapsulates this is when Nick and Roy attend Nick's funeral. Roy goes on and on about how miserable his own funeral was and won't shut up and let Nick take in the moment, despite continuously promising too. The chemistry between the two is unexpected, and I'm curious to see how it will play out in the full feature.
The reel also did an impressive job of setting up the visual style of the movie. At the start of the footage we see how Nick dies – getting taken down by gun fire during a shootout between cops and crooks – but when he gets back up he seems to be walking through frozen time. It's a technique we first saw in director Adam Berg's short film Carousel a few years ago, and was also used by Adam McKay for the "Drinking With Terry Hoitz" sequence in The Other Guys. Just as it did in those two works, it looks incredibly cool and hopefully Schwentke will be able to live up to the aesthetic promise of that scene in the rest of the movie.
The film also employs some clever and creative world-building details, the standout being Nick and Roy's on Earth "avatars." Because they are dead, the two heroes can't look like themselves when walking around among the living and have to assume different identities - meaning that Nick looks like Big Trouble in Little China's James Hong and Roy appears to be supermodel Marisa Miller. It's an element only briefly played up in the footage, but it's done well, with the avatars going around finding deados together to solid comedic effect.
We'll have more about R.I.P.D. later this week when the trailer arrives online, and get ready to look for it in theaters on July 19th.
For more of our CinemaCon 2013 coverage head over HERE!
Your Daily Blend of Entertainment News
Assistant Managing Editor
NJ native who calls LA home and lives in a Dreamatorium. A decade-plus CinemaBlend veteran who is endlessly enthusiastic about the career he's dreamt of since seventh grade.
Your Daily Blend of Entertainment News
Thank you for signing up to CinemaBlend. You will receive a verification email shortly.
There was a problem. Please refresh the page and try again.