Jena Malone Confirmed As Johanna Mason In The Hunger Games: Catching Fire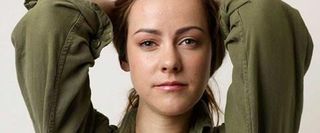 A few weeks ago at Comic Con I was chatting with some Lionsgate PR people, and they asked me what I thought of Philip Seymour Hoffman's casting as Plutarch Heavensbee in The Hunger Games: Catching Fire. I told them I thought it was a perfect move, and also said I was down with the idea of Jena Malone as Johanna Mason-- at which point they both went silent and said "Well, we don't know anything about that." I swear I wasn't trying to trick them into confirming this rumor-- I had completely forgotten that the news wasn't confirmed, since it seemed all but certain that Malone had gotten the part, and weeks had gone by without any news confirming or denying it.
Now, at long last, those Lionsgate folks can speak freely. The studio announced today that Malone has indeed been cast as Johanna Mason, the fiery and confrontational former Hunger Games winner from District 7 who clashes with our heroine Katniss. There's a surprise that comes halfway through Catching Fire that further explains what Johanna and Katniss get up to in the movie, but if you haven't read the books, it's something you're better left discovering on your own. Suffice it to say that Johanna is a great part for any actress, and after making her way through a bit part in AMC's Hatfields & McCoys, a role in the disastrous Sucker Punch and various other small role, Malone is about to take the spotlight in a way we haven't seen in a while.
Your Daily Blend of Entertainment News
Staff Writer at CinemaBlend
Your Daily Blend of Entertainment News
Thank you for signing up to CinemaBlend. You will receive a verification email shortly.
There was a problem. Please refresh the page and try again.