Jenna Fischer Gives Owen Wilson A Hall Pass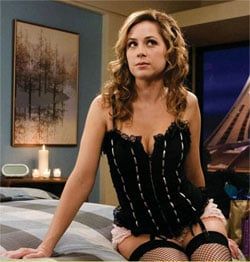 Bad news for anyone hoping the Farrelly Brothers were finally hard at work on that long-awaited Three Stooges movie. They're casting Hall Pass instead.
THR says The Office's Jenna Fischer is in negotiations to star opposite Owen Wilson in the film as his wife. The movie is about a married couple in which the wife gives her husband permission to have sex with other women. Hence the term "hall pass". Odds are this will result in all sorts of jealousy and unexpected angst, unless this is a movie about swingers. But then Owen Wilson would have to give Jenna Fischer a hall pass as well and, in America, we don't like to acknowledge that women like to have sex. It's a double standard, but it works for us. So full blown swingers… probably not. Besides, what kind of comedy could you get from that? How many jokes can you really make about water soluble lube?
No, it's reasonable to assume it'll mostly be Owen Wilson out to have extramarital relations. Even though he's married to Jenna Fischer. That's madness. Utter madness. No one is going to buy that.
This doesn't mean the Farrelly's aren't still doing Three Stooges but it does mean that it probably doesn't have their full attention. Which movie are they doing first? Wait and see. Nyuk nyuk nyuk.
Your Daily Blend of Entertainment News