Jeremy Piven's Fat Paycheck Is Holding Up the Entourage Movie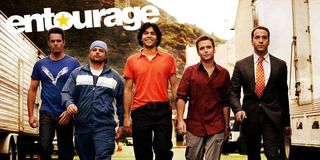 The mystery of who is holding up the Entourage movie continues to unravel with news that Jeremy Piven's fat deal with the film's producers has caused envy among his would-be costars. THR reports that Piven has been promised backend compensation for the spin-off feature of the popular HBO series, an offer that has not been extended to Adrian Grenier, Kevin Connolly, Jerry Ferrara and Kevin Dillon.
This revelation helps make sense of the public dispute between Entourage producer Mark Wahlberg and Grenier. Last week, when asked on the street what was taking so long for production on the movie to get going, Wahlberg cited greediness of "them guys" whom most assumed to be the cast. Grenier responded via Instragram, posting a message that claimed he and his fellow hold-outs were waiting for "any deal that gives ALL the boys an opportunity to share in the upside of success EQUALLY." Though we noted Piven had already inked his deal, a couple of our readers were quick to comment he must be to blame. And it seems he is, though not in the way you'd expect.
Piven's contract, which he signed earlier this month, will have him making more off Entourage's movie than his co-stars would stand to. But this is nothing new for the franchise. When the show was first cast, Piven got the highest paying deal as he was the only one with a name worth promoting. It's said he made nearly $100,000 an episode for the first two seasons, and had a more flexible contract than the rest of the guys allowing him to more easily re-negotiate as the series went on. It's weirdly fitting that the guy who played a ball-busting agent managed such sweet deals, isn't it?
But, why not give Grenier, Connolly, Dillon, and Ferrara as much as Piven's getting? Well, the answer to that is a matter of budget. Warner Bros is giving Wahlberg less than $30 million to make this movie, which substantially limits he can spend on above the line costs like talent. Another element that is key to the WB production deal is that shooting begin in time to count toward the California tax credit it's qualified for. Meaning if Entourage is not in production by January 2014, it could be a deal breaker with the studio. But to get this project into gear something's got to give. Either the cast will have to back down on making Ari Gold level bank, or Warner Bros will have to raise the budget for this spin-off movie.
It's a dilemma the studio has faced before with HBO stars. Notably in 2007, Kim Cattrall dragged her feet in signing on to the first Sex and the City movie, and the tactic worked for both sides. She got a plusher payday, and Warner Bros made a movie that went onto earn more than $415 million worldwide. However, it's worth noting that WB clearly had more faith in that spin-off movie as it's budget was more than twice Entourage's, coming in at $65 million. What all this means for the Entourage movie and its stars is hard to determine at this point. But as more gets made public, it seems less and less likely they'll be hugging it out.
Staff writer at CinemaBlend.