Jeremy Renner Has Washington In His Sights In Kill The Messenger Poster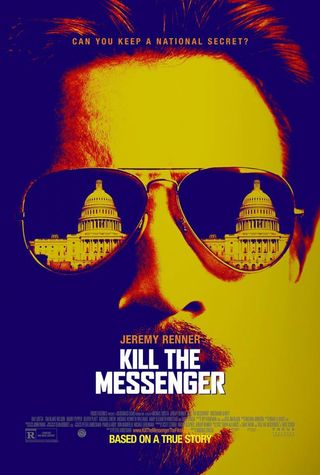 "Can you keep a national secret?" That's the question posed by the bold poster Focus Features has released to tease the unveiling of their soon-to-hit trailer for Kill The Messenger. You may not recognize him blown out and bearded, but featured here is two-time Academy Award nominee Jeremy Renner (Check the name under his nose). As follow-up to his charming turn as a corrupt politician in American Hustle, Renner is doling out another tale of government gone bad that is likewise based on a shocking true story. This one of polarizing newspaperman Gary Webb.
Peter Landesman (Parkland) based his screenplay for Kill The Messenger off of Webb's own writings as well as the Nick Schou-penned biography Kill The Messenger: How the CIA's Crack-Cocaine Controversy Destroyed Gary Webb. The title alone could serve as a logline for the film, which stars Renner as in the lead role playing a Pulitzer Prize-winning journalist who unearthed some unsettling truths about the CIA.
Investigating a Los Angeles drug ring that was dealing crack, Webb found ties to operations run by the CIA. He went on to accuse Ronald Reagan's White House of shielding known drug dealers from prosecution as a means to influence politics in Nicaragua in a three-part expose for for the San Jose Mercury News called "Dark Alliance," and as you might imagine, his report set off a lot of outrage. Not all of it, however, was directed where you might think. Webb was brutally attacked in a relentless smear campaign meant to undermine and discredit him and his claims. He was forced to resign, and ultimately took his own life. His initial investigation and the resulting chaos it brought to his life will play at the center of Kill The Messenger.
To pair with the poster, Coming Soon has also uncovered a couple of stills from the upcoming thriller. In the first, you can see Jeremy Renner as Gary Webb in what appears to be a courtroom setting.
And the second shot has Renner in a haphazard workroom surveying a map of North America.
Renner is clearly the headliner of Kill The Messenger, but director Michael Cuesta (Homeland, L.I.E.) has actually assembled a cast overflowing with noteworthy performers, including Rosemarie DeWitt, Tim Blake Nelson, Barry Pepper, Oliver Platt, Michael Sheen, Paz Vega, Michael Kenneth Williams, Mary Elizabeth Winstead, Andy Garcia and Ray Liotta. Kill The Messenger won't be coming to theaters until October 10th, but look for its first trailer tomorrow.
Staff writer at CinemaBlend.
Your Daily Blend of Entertainment News
Thank you for signing up to CinemaBlend. You will receive a verification email shortly.
There was a problem. Please refresh the page and try again.