Is Jeremy Renner The New Snake Plissken?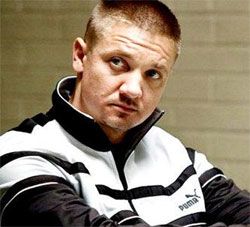 We've been hearing rumors that Escape from New York might get remade since 2004. Nothing has ever really come of it. The most recent rumor floated back in June and said Timothy Olyphant might be hired to wear Snake Plissken's eyepatch. Nothing ever came of that either. Now it's Hurt Locker's Jeremy Renner's turn to enter the neverending Snake Plissken lottery.
Bloody Disgusting says that Renner is in early stages of being cast to play the iconic Plissken role for Breck Eisner's planned Escape from New York remake. The original John Carpenter directed movie starred Kurt Russell as an eye-patch wearing criminal turned antihero sent into a dystopian New York City to save the president. This new version should follow much the same plot, except if BR is right, with Renner wearing the Plissken eye-patch.
Following the success of The Hurt Locker, though, Renner's name has been rumored for just about every iconic remake or adaptation floating around out there and in need of an obligatory badass. Despite all the rumors and buzz, so far all he's actually taken are a couple of supporting roles. He was great in The Town as Ben Affleck's brother, he'll be some sort of supporting character in Tom Cruise's next Mission: Impossible, and at some point he'll show up as a minor part of The Avengers ensemble as Hawkeye. What I'm getting at here is that taking on the iconic, front man role of Snake Plissken seems like kind of a big jump for a guy who has so far shown ever intention of staying in the background as a supporting character actor. More on this rumor as it develops.
Your Daily Blend of Entertainment News